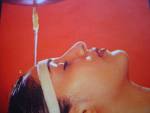 Greg has perfected his program to allow for busy professionals like me to experience an intensive cleansing for body mind and soul. I feel like a new person. Rejuvinated in every aspect.
Puerto Vallarta, Mexico (PRWEB) January 18, 2012
The anniversary of 15 years providing Ayurvedic Services and Panchakarma Treatments is here. The ancient art of finding balance and promoting health naturally though mostly organic veggies, herbs, and teas is here to stay.Healing Hands is one center that specializes in taking care of individuals and their needs. Healing Hands is dedicated to health and will not be distracted by any other Panchakarma therapies during the stay. The care you get is specific for the individuals and their body's needs. Each treatment is completely customized for the person's imbalance.Healing Hands is founded by Greg and Selene Soucy. They have been working in the heath field for a combined 37 years. Greg is a licensed massage therapist, Ayurvedic Practioner, wellness coach and health mentor with more than 22 years of experience in the wellness industry. Soucy specializes in Ayurvedic treatments and body re-education to treat pain, attain balance and achieve quality of life. He instructs spas in Ayurvedic treatments and advanced massage techniques and conducts wellness seminars. Selene has worked in 5 star Resorts, is a Certified Massage Therapist, Licensed Aesthetician, Certified Feng Shui Consultant and Designer with a great eye for aesthetics. They studied Ayurveda in Florida under their teachers Drs. Bryan and Light Miller, and the Flordia Vedic Collage. They have recently have trained a new member of the team Edwardo Hernandez. He comes with a back ground of Yoga and Science. A truly gifted teacher of Yoga, who has excellent hands for massage. The three of them create an exceptional team that will have the client feeling at home and completely taken care of on all levels.
Some things the clients are saying:
"I am moved by his depth, knowledge, ease and my transformation under his guidance was remarkable. I recommend him without reservation; in fact encourage anyone who is considering a return to health and balance!" by: Joan Barnes
"Over two months ago, I experienced my first Panchakarma with two very accomplished healers. I have been in health care for over 22 years, and "Healing Hands" Panchakarma was the most complete healing I ever experienced. I am more at peace and ease in body, mind and spirit. I am still experiencing the robustness I have not had in years. Their insightful guidance gave me tools to use after I returned home. This process was most worthy of my time and money. Thank you, Greg & Selene, for your complete attentive care to all of my needs during the entire week of healing." by: Dr. Sue Mullen, DC
Please feel free to contact Healing Hands with any questions or concerns at 305-810-8534 or by email gsoucy(at)tridosha(dot)com.
###