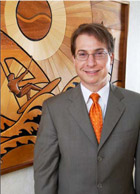 Plano, TX (PRWEB) January 19, 2012
Not only does Dr. Ronald M. Friedman, a board certified plastic surgeon serving the entire area in and around Plano, Texas, leave a lasting impression on his patients – he consistently makes a notable impact on his medical colleagues.
Being named a 2011 "Best Doctor" by D Magazine for the fourth consecutive year attests to this, as it directly reflects how his peers feel about his work as a qualified plastic surgeon. In order to gain this esteemed recognition, physicians must vote for a colleague whom they would recommend to their own friends and family. For many professionals, selecting Dr. Friedman as one of the Best Plastic Surgeons was a natural choice, as he is known for providing favorable outcomes for his patients.
But the media attention in 2011 didn't stop there. In addition to being named a "Best Doctor" by D Magazine, Dr. Friedman was also named "Best Cosmetic Surgeon in Denton County" by Allen Publishing Company in December 2011. This honor was the culmination of voting by 30,000 readers of Allen's publications. Receiving this type of acknowledgement was quite a surprise for him, as his primary office is located in Collin County at Presbyterian Hospital of Plano. Although he has maintained a Flower Mound office since 1996, he spends a minority of his time in Denton County. Dr. Friedman commented, "I must have greater name recognition than I thought I had." Due to his 15 years of service in Flower Mound, he receives referrals from such areas as Lewisville, Irving, Highland Village, Colleyville, Southlake, and Las Colinas.
Board certified by the American Board of Plastic Surgery (ABPS) and a member of the American Society of Plastic Surgeons (ASPS), the American Society for Aesthetic Plastic Surgery (ASAPS), and the Texas Society of Plastic Surgeons (TSPS), Dr. Friedman has a unique background. With more than 25 years of experience performing wood and marble sculpture, Dr. Friedman approaches every procedure with an artistic eye, which both patients and peers recognize and respect. Performing 85 percent cosmetic surgery in his practice, breast enhancement is one such area that benefits from this eye for aesthetics. In 2011, he performed 135 breast augmentation surgeries, which supersedes the reported national average of plastic surgeons' performing 30 to 35 annually. Dr. Friedman has also become widely known for performing breast revision surgeries, having performed approximately 20 of these procedures in 2011 (primary surgeries done by another surgeon elsewhere) for women from a variety of places, including Hawaii, Florida, Washington, California, and Canada.
To see a list featuring more of Dr. Friedman's previous awards and press coverage, please visit his website, http://www.plasticsurgerydallas.com.
###