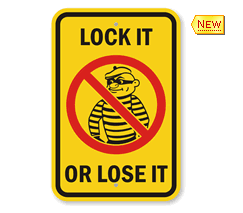 If car owners don't lock their cars, they are the ones who put their vehicles and valuables at risk.
Brooklyn, NY (PRWEB) January 18, 2012
MyParkingSign.com is announcing new eye-catching theft signs that will keep cars safe. One new product is a bright yellow parking sign that displays "Lock it or Lose It" in bold colors. The most noticeable attribute featured on the sign is a red prohibition "No" symbol covering a hilarious black and white robber.
The Lock it or Lose It Parking Sign is a great addition to any crime watch safety program. Thanks to the bright and long-lasting 3M graphics on theft signs, the robber pictured makes it clear that criminals should stay away. Drivers also need blatant reminders to lock their car doors. Because of automatic locks, people no longer have to individually lock every car door from the inside and may forget to click a button. If car owners don't lock their cars, they are the ones who put their vehicle and valuables at risks.
Similarly, MyParkingSign also provides Not Responsible for Theft Signs and Park At Your Own Risk signs. These are proactive aids for people to safeguard their vehicles. "Customers should consider the amount of trouble they would go through if someone broke into their car," said Blair Brewster, founder of MyParkingSign.com. " It would be an expensive and upsetting endeavor to track down missing items or have them replaced. In addition, someone who broke into a car could also harm an infant, pet, or passenger who also happens to be in the car."
"Lock it or Lose it" and other signs against theft are designed to last. The parking sign is comprised of durable, unbreakable 40 millimeters-thick aluminum that will not damage. The aluminum will not rust and will last for at least ten years inside and outside. In addition, the signs come in tough laminated vinyl that will not tear or yield to abrasion.
Stop parking lot crimes with Lock it or Lose It and Park at Your Own Risk theft signs. As the expression goes, a picture is worth a thousand words. A cartoon burglar is a funny and memorable reminder for people to stay safe.
For more information, visit http://www.myparkingsign.com/security-signs/not-responsible-stolen-objects-sign.aspx.
About MyParkingSign.com
MyParkingSign is the largest online distributor of parking and traffic signs. Find over 3,000 different parking signs in stock as well as labels and accessories. Customers can create their own signs using convenient customization wizards.
About SmartSign
SmartSign is one of America's fastest growing e-commerce companies and parent of http://www.MySafetySign.com, http://www.MyParkingSign.com, as well as over 50 other sites.
Traditionally, signs with the right message have been hard-to-find, hard-to-design and hard-to-order. By positioning "Signs as Solutions", SmartSign has taken an entirely different approach. Through highly targeted, yet content-rich and authoritative sites, the company provides specific solutions to specific problems – such as keeping your Parking Lot safe and manageable. "We take the agony out of finding and ordering your perfect sign" – Blair Brewster, SmartSign founder. Couple this with fast and free shipping, 3M warrantied signs that outlast fast-fading ink jet signs from competitors, the web's largest range of designs and a best price guarantee, it is easy to see why SmartSign has grown so quickly.
###