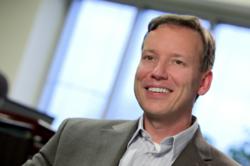 Harrisburg, PA (PRWEB) January 18, 2012
Conrad Siegel Actuaries, providing comprehensive employee benefits services, today announced that Consulting Actuary John Jeffrey is the author of a reoccurring column in The Patriot News sharing retirement savings tips and expertise with readers.
His first column addressed the pros and cons of borrowing money from your 401(k). Jeffrey, who chairs Conrad Siegel's marketing committee, writes, "If borrowing from your 401 (k) is easy, relatively cheap and you are paying yourself back, what's the downside? First things first. Don't let the tail wag the dog here. Just because the process is easy and painless, don't be tempted to "create a need" for this money. The assumption here is that you truly need a loan."
Jeffrey suggests that before you take a loan out on your 401(k), borrowers should consider "a bank loan or a home equity line of credit that has a rate lower than the amount you expect your retirement portfolio to earn over the life of the loan." He adds, "the extra fees and inconvenience of applying for credit from a bank could be worth it, in the form of thousands of dollars in additional retirement savings over the long term."
Jeffrey's column, called "Road to Retirement" will appear monthly in The Patriot News and will take a look at retirement savings topics and offer tips and advice to readers. His first commentary, "Tempted to borrow from your 401(k)? Stop to Think", appeared online and in print January 1, 2012.
About Conrad Siegel Actuaries
Conrad Siegel Actuaries is one of the largest and most respected employee benefits firms in Pennsylvania. Recognized as both an industry leader and a trusted advisor, the firm stands apart by offering unbiased, fee-based services backed by careful attention to detail. Conrad Siegel partners with its clients to offer a comprehensive source for all employee benefit needs. For more information, please visit http://www.conradsiegel.com.
###