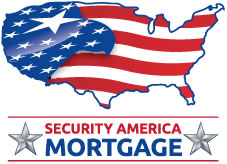 Austin, Houston, Dallas, San Antonio, TX (PRWEB) January 21, 2012
The Department of Veterans Affairs changed a few methods used to calculate the VA Home Loan maximum amounts for veterans buying a home in 2012. Since VA's 2011 procedure is no longer relevant for calculating a VA Home Loan amount in Texas, what does that mean for veterans and active duty military members who are ready to buy a home using VA benefits in cities like Austin, Dallas, Houston, and San Antonio?
For expert mortgage companies in Texas, like Security America Mortgage, Inc., a company who specializes in VA Loan and Real Estate services for Texas home buyers, they can still offer VA loans that provide the lowest rates possible in 2012. In a nutshell, the 2012 calculation change simply means that the maximum amounts for home purchases have a different formula used to calculate the VA guaranty loan amount allowed for veteran home buyers. Overall, the VA Loan still provides the best home mortgage rates in Texas.
To simplify the VA Loan Process more, the good news is that the loan amounts are funded by lenders, like Security America Mortgage, Inc., and VA Loan amounts are all calculated by the mortgage company – not the VA. The VA only insures the VA guaranty loan up to a certain amount – which is kind of like a "promise" to the lender to pay a home loan for a veteran if they ever default on a loan for any reason. The first step to getting a loan would be to use the COE VA Loan Requirements.
Since the 2012 VA Loan Calculations do not alter the great VA benefits allowed when approving VA Loan amounts either, the VA Home Loan Benefits still include the many reasons VA Loans can be obtained – which are to:
1. Purchase or build a new home
2. Purchase a residential condominium unit
3. Purchase a residential cooperative housing unit
4. Repair, alter, or improve a residence owned by the veteran and occupied as a home
5. Refinance an existing VA or conventional home loan
6. Buy a manufactured home and/or lot
7. Install a solar heating or cooling system or other energy-efficient improvements
The 2012 calculations also make it easier for VA Loan Specialists at Security America Mortgage, Inc. to pre-approve VA Refinance Loans for military members buying a home in Texas cities like Austin, Dallas, and San Antonio. In fact, there are actually the three DIFFERENT VA Refinance options available for military individuals who want to save money by lowering monthly mortgage payments significantly in Texas. These VA Refinance options are as follows:
VA Loan Refinance Option #1 - VA Streamline Refinance - Interest Rate Reduction Loan (IRRL):
VA streamline refinancing loan can be used when you already have a VA home loan financed with your current home. The only reason you would choose to refinance would be to achieve a lower interest rate using a "VA Interest Rate Reduction Loan (IRRL)". The VA IRRL enables lower interest rates on a current VA home loan and it can be achieved with no out-of-pocket closing costs to the homeowner - which is great!
VA Loan Refinance Option #2 – "Cash-Out" or Debt Consolidation Refinance:
If there is equity in the current VA loan financed with the home needing to be refinanced, the VA benefits give eligible veterans the option to refinance the VA home loan currently financed on the home - and then to receive a "cash out" payment that is up to 90% of the home's equity value. The money left over from the home's appraised and calculated value can then be used for anything like; Paying off credit card debts, remodelling home improvements, or to save money for retirement.
VA Loan Refinance Option #3 - Conventional to VA Refinance Loan:
The Conventional to VA Refinance option requires a funding fee, which the government charges to insure a VA Home Loan with the lender. The fee is 2.2% for veterans who are first-time users for this type of loan. The good thing about the Funding Fee is that it can be financed into the cost of the loan.
For all states in the U.S. (except a few with different economies entirely) the 2012 VA loan limit is $417,000. This is the true "VA Guaranty" amount for Texas. There are several more reasons you can get more money on a home loan because VA does not actually provide the VA loan to the home buyer, the lender (mortgage company) does. This is why companies like Security America Mortgage, Inc. who support low VA Loan rates for veterans, 2012 calculation will be a breezy change for the goal to give the American Heroes of the United States the ultimate American Dream. The first step to get there is to contact the nearest VA Loan Specialist in your area. The rest is history in the making.
Contact a Home Loan Expert at Security America Mortgage, Inc. to pre-approve YOUR VA Home Loan!
###