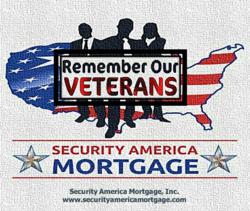 San Antonio, Texas (PRWEB) January 31, 2012
Security America Mortgage, Inc. now Sponsor Texas VA Loans with optimal website services on the rise.
When buying a home in the state of Texas, with its flourishing employment opportunities and growing home expansions spreading faster than any other state in the nation, military families moving or living in cities such as Houston, Austin, San Antonio, and Dallas can expect to receive all sorts of VA Loan funding from mortgage lenders, especially in 2012. Security America Mortgage, Inc., a renowned mortgage lender in the United States, recently launched their website "valoanssanantonio.com" purely for the purpose to provide specialized VA Loan and Real Estate services to the San Antonio location only.
So, why would a family finance a home with a VA Loan compared to a conventional loan or an FHA loans? There are several reasons VA Home Loans are one of the fastest growing mortgage loans being used to finance homes for military affiliated individuals who qualify to receive this type of funding.
The following list is of Ten Advantages of VA Home Loans and VA Refinance Loans:
1. VA Loans in Texas require $0 Down Payment on Mortgage.
2. VA Loans in Texas have No Closing Costs.
3. VA Loans in Texas require that all Non-allowable Closing Costs are Waived by the Seller.
4. VA Loans in Texas have the VA do the work for you for obtaining a Certificate of Reasonable Value (CRV) for the Home Buyer – FREE OF CHARGE
5. VA Loans in Texas issue a VA Inspector to perform a Home Appraisal at No Cost to the Buyer.
6. VA Loans in Texas allow VA Refinance Loans to Lower Monthly Mortgage Payments.
7. VA Loans in Texas have no pre-payment penalty fees.
8. VA Loans in Texas have Low Loan Origination Fees issued called "Points Capped"-meaning the charges and services rendered are regulated.
9. VA Loans in Texas have Lenient Requirements on Credit Scoring and Credit Pre-Approvals (unlike most Conventional Loans).
10. VA Loans in Texas offer Lower Interest Rates than Conventional Loans and FHA Loans
Making military members just a few clicks and one phone call away from being approved for an affordable home loan in Texas is the ultimate American Dream for Security America Mortgage, Inc. Garrett Puckett, the CEO of Security America Mortgage, explained that the company's main mission is, as always, to save as much money for veterans and active-duty military personnel as they can by using finance VA Loan options available in the state. The second goal is to help veterans find the best homes out there with Real Estate services readily available. The VA Loan Specialists do continue to achieve these goals every day by offering low finance rates and even lower refinance loan rates with the addition of launching location specific websites like the one for VA Texas Loans.
As Security America Mortgage grow their advocacy to support military members by offering them the best VA Loan Rates and Real Estate Services in the country, the homeowners market for the veterans returning home to Texas will be the greatest playing field for military investment opportunities.
To jump start a phenomenal home buying experience in San Antonio, Contact a VA Loan Specialist now and Get Started!
###