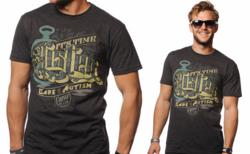 Los Angeles, CA (PRWEB) January 18, 2012
During it's third campaign of the new year, Sevenly will continue to sell tee-shirts that raise money for charities by partnering with Autism Speaks, the world's largest autism science and advocacy organization. Starting January 16th through the 23rd, Sevenly supporters can purchase the custom designed Autism Speaks tee-shirt on the Sevenly website and also help spread awareness about the organization through social media.
Sevenly donates seven dollars from every shirt it sells to a different nonprofit organization each week. The company also raises awareness for the nonprofits it partners with through its social media platform, which encourages supporters to "like" the week's campaign on Facebook and share it on Twitter.
"One of my goals with this week's campaign for Autism Speaks is to share information about autism through our website and our social media networks," said Sevenly CEO Dale Partridge. "One in 110 children are affected by autism and I feel like so many people don't have a clear understanding of what autism is and what they can do to help. I hope with this campaign we can help get the word out."
Autism Speaks was founded in February 2005 by Suzanne and Bob Wright, the grandparents of a child with autism. The organization is dedicated to funding research into the causes, prevention, treatments and a cure for autism; increasing awareness of autism spectrum disorders; advocating for the needs of individuals with autism and their families. Autism is a general term used to describe a group of complex developmental brain disorders – autism spectrum disorders – caused by a combination of genes and environmental influences. These disorders are characterized, in varying degrees, by social and behavioral challenges, as well as repetitive behaviors. An estimated 1 in 110 children in the U.S. is on the autism spectrum – a 600 percent increase in the past two decades that is only partly explained by improved diagnosis.
"We are thrilled to partner with Sevenly and admire its efforts to call attention to autism through such an engaging form of online fundraising," said Marc Sirkin, chief community officer of Autism Speaks. "We encourage everyone to purchase a custom designed Autism Speaks tee-shirt and spread the word on their social networking sites to help raise awareness and funds for the autism community."
Sevenly is a for-profit company founded in June 2011 to raise capital and awareness for the world's greatest causes. Each week Sevenly partners with one qualified nonprofit to sell a shirt specifically designed for that week's campaign, with seven dollars from each shirt sale going to the charity. Run by CEO Dale Partridge, the company's goal is to provide support to charities through increased awareness, funding and following. To learn more about Sevenly visit http://www.Sevenly.org.
Autism Speaks is the world's largest autism science and advocacy organization. Since its inception, Autism Speaks has made enormous strides, committing over $173 million to research and developing innovative resources for families. Each year Walk Now for Autism Speaks events are held in more than 80 cities across North America. To learn more about Autism Speaks, please visit http://www.autismspeaks.org.
###