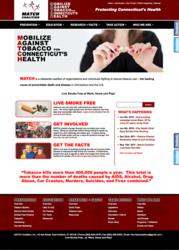 East Hartford, CT (PRWEB) January 19, 2012
MATCH Coalition has launched a new website, designed and developed by ForeSite Technologies.
MATCH Coalition, Inc. (Mobilize Against Tobacco for Children's Health) is a non-profit organization, established in 1995, to protect Connecticut residents from the dangers of tobacco use and secondhand smoke. MATCH consists of over one hundred members representing thousands of Connecticut residents.
The objective of this project was to cultivate an effective web strategy through a professional website that will serve as the public face of the organization and establish creditability with the public. The creative approach for the new website was based on input from MATCH; however ForeSite helped determine the most appealing design and appropriate layout, positioning each web page- including content- to ensure the site is developed in the most optimal manner for visitor ease of use and search engine friendliness.
New features of the re-launched website include personal stories, case studies, contact forms, blogs, instant messaging and social media accounts. Enhanced interactivity, user recognizable options, social media, and other uses of Web 2.0 will give visitors a reason to participate and return. The site's photo gallery has also been enhanced. The new MATCH site was designed so that visitors could find the most important information right away. Consistent navigation throughout the site will make information easy to find.
About ForeSite
Since 1997, ForeSite has been designing and developing standout Web sites and providing insightful IT support to its clients. Serving clients in the Hartford, CT and Worcester, MA areas, ForeSite offers practical, tailored and creative solutions that fit a wide range of business needs. For further information, call 1.866.464.7483 or visit ForeSiteTech.com.
###