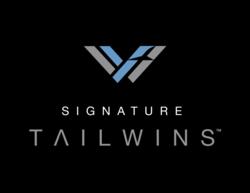 (PRWEB) January 19, 2012
Signature Flight Support Corporation launched two new customer products at NBAA's Schedulers and Dispatchers Conference in San Diego – Signature TailWins™, a customer loyalty program and the Signature Flight Support aviation card which is being issued in partnership with U.S. Bank Multi Service Aviation.
Signature TailWins™ Customer Loyalty Program
Signature TailWins™ is a ground-breaking loyalty program for pilots, crew, schedulers and dispatchers, corporate flight and travel departments offering one of highest rates of rewards currently available in the industry. The Signature TailWins™ program rewards customers with desirable products, services and experiences from watches, destination travel, apparel, technology and even a famous American motorcycle brand. Alternatively, members can donate their points to charity or share their points amongst their flight crew, flight department staff and schedulers and dispatchers.
Points are awarded for fuel and handling purchases within the Signature network, with double points awarded when transactions are completed with the new Signature Flight Support aviation card. Members can also earn points for purchases of fuel wherever the U.S. Bank Multi Service Aviation card is accepted, worldwide, at over 7,500 locations and in 190 countries. The Signature TailWins™ program covers both AvGas and Jet-A and is applicable for purchases with the exception of military, government or transport category transactions.
The enrollment process is simple and user friendly and customers are able to use their Signature TailWins™ rewards number immediately upon enrollment. Redeeming rewards is easy with a convenient online catalog and customer Signature TailWins™ account summary that allows them to monitor their rewards balances and update their profiles.
Signature Flight Support Aviation Card
The Signature Flight Support aviation card is underwritten by U.S. Bank and Multi Service Aviation. The U.S. Bank Multi Service Aviation card has been noted in the Professional Pilot PRASE survey as the industry's most preferred payment card. The card offers a single, convenient payment method for all aviation purchases including fuel, handling, catering and maintenance. An online customer service portal allows cardholders to track and manage all of their aviation spending. The credit application is available on the Signature Flight Support website and at Signature's booth #436 at the NBAA Schedulers and Dispatchers Conference.
"We have designed both of these programs to provide our customers with a meaningful rewards program and aviation services payment method that made sense. The Signature TailWins™ rewards program coupled with the Signature Flight Support aviation card is the most compelling program in our industry today and complements our existing customer relationship program, Signature Status, which rewards our loyal customers with value-added benefits when they visit Signature," stated Maria Sastre, Chief Operating Officer for Signature Flight Support. "As we continue to refine our customer offerings, a fresh, new approach to rewarding our loyal customers was needed, and we are confident that Signature TailWins™ is the best solution."
"Signature has been a valued customer of U.S. Bank for many years and we are honored to be expanding the relationship," said Jeff Rankin, Senior Sales and Marketing Manager for U.S. Bank Corporate Payment Systems. "It's exciting to partner with one of the world's premier fixed base operators to provide their customers with a fuel payment product unmatched in the industry on all levels, including pilot rewards."
While this first phase of Signature TailWins™ is applicable in the United States, a global solution is being developed and will be launched in the next few months. Terms and conditions for both Signature TailWins™ and our new Signature flight Support Aviation Card programs apply and interested parties are encouraged to visit Signature's website: http://www.signatureflight.com/rewards for more information or to enroll in the programs.
Signature Flight Support Corporation, a BBA Aviation plc company, is the world's largest fixed-base operation (FBO) and distribution network for business aviation services. Signature services include fueling, hangar and office rentals, ground handling, maintenance and a wide range of crew and passenger amenities at strategic domestic and international locations. Headquartered in Orlando, Florida, Signature currently operates at more than 100 locations in the United States, Europe, South America, Africa and Asia. For more information, please visit: http://www.signatureflight.com.
BBA Aviation plc is a leading global aviation support and aftermarket services provider with market-leading businesses and attractive growth opportunities. BBA Aviation's Flight Support businesses (Signature Flight Support and ASIG) are focused on the refuelling and ground handling of business and commercial aviation aircraft. Its Aftermarket Services and Systems businesses (Dallas Airmotive, Premier Turbines, H+S Aviation, International Turbine Service, Barrett Turbine Engine Company, International Governor Services, Ontic and APPH) are focused on the repair and overhaul of jet engines and the manufacture and service of aerospace sub-systems and components. For more information, please visit http://www.bbaaviation.com.
U.S. Bank Multi Service Aviation provides cardholders with customized billing, free online account maintenance and savings on fuel. We have served the aviation industry of North America with financial integrity, security, and unsurpassed customer service for more than 25 years. Visit http://www.multiserviceaviation.com to learn more.
U.S. Bancorp, with $330 billion in assets as of Sept. 30, 2011, is the parent company of U.S. Bank, the fifth-largest commercial bank in the United States. The company operates 3,089 banking offices in 25 states and 5,092 ATMs and provides a comprehensive line of banking, brokerage, insurance, investment, mortgage, trust and payment services products to consumers, businesses and institutions. U.S. Bancorp and its employees are dedicated to improving the communities they serve, for which the company earned the 2011 Spirit of America Award, the highest honor bestowed on a company by United Way. Visit U.S. Bancorp on the web at http://www.usbank.com.
###