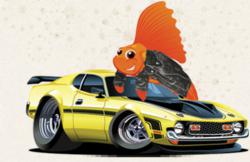 SOPA and PIPA open the door to internet censorship and then what next?
San Diego, California (PRWEB) January 17, 2012
RoadFish.com men's lifestyle and finance magazine made public their support of Wikipedia joining the blackout that will be taking place on Wednesday, January 18, 2012. Wikipedia as well as Reddit and BoingBoing will be "going dark" in protest against the Protect IP Act (PIPA) and Stop Online Piracy Act (SOPA). Wikipedia will display a blackout design containing information about the protest on their homepage for 24 hours.
Protestors are hoping this act will help to kill SOPA at the U.S. House and PIPA at the U.S. Senate on January 24, 2012.
The editor of RoadFish stated, "There has got to be a better way. The United States already has anti-piracy laws in place. SOPA and PIPA open the door to internet censorship and then what next? Suppression of free speech is just plain wrong. We need to hold true to the United States Constitution and do whatever we can to oppose SOPA and PIPA."
Not only are major internet companies opposing SOPA and PIPA, but the Obama administration has made some noise. The White House has released an official response stating, "While we believe that online piracy by foreign websites is a serious problem that requires a serious legislative response, we will not support legislation that reduces freedom of expression, increases cybersecurity risk, or undermines the dynamic, innovative global Internet."
RoadFish.com urges anyone that opposes SOPA and PIPA to sign a petition or contact their House Representative or U.S. Senator.
About RoadFish.com
RoadFish.com is an online men's finance and lifestyle magazine targeted toward men in their 30's and 40's that have already attained a moderate level of success in life, and are striving toward more. It goes over current events of interest to this group, such things as exciting adventures, consumer interests, dating tips, parenting, as well as ways to make more and save more money. It is a publication owned by Purpose Inc.
###