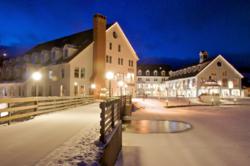 Hudson, MA (PRWEB) January 18, 2012
altE, a leading distributor of solar panels and solar power products, today announced the first annual Installer and Dealer Conference will be held February 28-29, 2012 at the Waterville Valley Resort in Waterville, NH.
The two-day event will include a trade show exhibit area and various training seminars with a focus on providing installer organizations the opportunity to see new products and technologies, meet and network with vendors and gain valuable insight on how to grow their business.
"We are excited to announce our first annual Solar Installer and Dealer Conference and are proud to provide an opportunity for installers to interact and learn from our top suppliers in our exhibit area and during the informative seminars they will be conducting," said Sascha Deri, CEO of altE. "Unlike other similar events, installers, integrators and contractors do not need to be current dealers of altE to attend this event. Our primary objective is to provide an opportunity for all installers and dealers in the renewable energy community to meet with and learn from the industry's leading manufacturers and vendors."
Vendors such as Solectria Renewables, Schneider Electric, Outback Power, Trojan Batteries, Midnite Solar, Kyocera, Schott Solar, Schletter, Nine Fasteners, IronRidge, EcoLibrium Solar, Fronius, MK Battery, DPW, AET Solar and more will be exhibiting at this years conference.
In addition to an exhibit area, extensive workshops and seminars will be conducted during the two day event. Many seminars will qualify for NABCEP continuing education credits.
The conference will be held at the Waterville Valley Conference Center and Resort, a premier resort located in the White Mountain National Forest and offers world class recreation, shopping, dining and more. The Waterville Valley Resort presents the perfect environment and location for an outstanding conference.
For more information on altE's 2010 Installer Conference, visit: http://www.altestore.com/store/info/install-conference-overview-2012
For additional information about altE visit: http://www.altEstore.com.
About altE
Founded in 1999, altE, Inc has catered to customers on every continent of the globe. A 2006 Inc. 500 awarded company, altE aims to continue to fulfill its motto, "Making Renewable Do-able," by offering cost competitive, high-quality renewable energy related products and educational services to a broad spectrum of the public. altE's headquarters is located at 43 Broad St, Suite A408 in Hudson, Mass. For more information visit their website at http://www.altEstore.com or contact Toll Free (877) 878-4060.
###