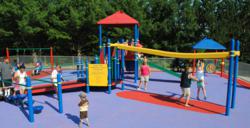 Delano, Minn. (PRWEB) January 25, 2012
Landscape Structures Inc., a Delano, Minn.-based commercial playground equipment manufacturer, is excited to introduce the PebbleFlex® surfacing system, a revolutionary, high-performance playground surfacing.
PebbleFlex is a one-of-a-kind playground surfacing solution with advanced technology. It includes tiny spherical aliphatic polyurethane pebbles that are highly abrasion resistant and more UV stable than any other surfacing in the industry. The pebbles are bonded together using a clear, flexible, two-part aliphatic polyurethane binder. This is an exclusive process of the PebbleFlex product that provides a significantly stronger and more durable surface.
The PebbleFlex surfacing system has been tested to protect children from fall heights of up to and including 12 feet, and meets all safety and accessibility standards. This high-impact attenuation results from a 1-1/8" layer of SBR recycled rubber and a layer of recycled closed-cell foam. The foam layer varies in thickness depending on the fall height required. Even more, the combination of the recycled rubber and foam allows for natural expansion and contraction, and is water permeable.
Landscape Structures offers PebbleFlex in five standard blends in addition to 15 custom solid colors to coordinate a look that is sure to complement the playground and surrounding environment. Custom graphics—a city park's theme or school mascot—can also be included in the surfacing design to capture the personality of the playground location. PebbleFlex allows customers to truly create a complete play environment.
PebbleFlex has a five-year warranty that covers natural deterioration and manufacturing defects as well as maintaining the impact attenuation requirements, which means children receive uncompromised safety for years.
Learn more about PebbleFlex by visiting http://www.pebbleflex.com.
Since 1971, Landscape Structures Inc. has been the leading commercial playground equipment manufacturer in the world. The employee-owned company is committed to making the world a better place with active children thriving in leading communities year after year, generation after generation. Landscape Structures encourages outdoor play that develops healthy kids and a sustainable world by creating innovative products that are environmentally responsible. The company's mission from day one has been to enhance children's lives by fostering and creating inspiring play experiences while honoring the environment.
###