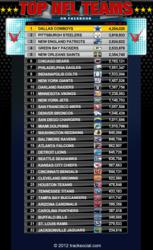 (PRWEB) January 18, 2012
This season's NFL scores are in – but we're not talking about the playoffs. Another kind of pro football competition happens everyday, and this one's not measured in yards and touchdowns but in Facebook Fans and online engagement.
Tim Tebow memes notwithstanding, when it comes to social media, pro sports teams have an inherent advantage over other kinds of brands. For one thing, NFL franchises don't have to worry about converting run-of-the-mill consumers into enthusiastic "Fans" – that's already in the bag. And since sports fans live and breathe the ups and downs of their teams, social media is perfectly suited for the kind of fan-culture engagement that keeps sports franchises healthy and profitable.
But that doesn't mean NFL teams don't have to work at their engagement strategies to keep real-world fans active online. Here's a look at how the top 5 NFL teams on Facebook are keeping their fans engaged:
1) Dallas Cowboys: 4,204,020 Facebook Fans
While it could be just a coincidence that the NFL's most "Liked" team is also it's most profitable, the enduring strength of the Cowboy's brand (despite its ups and downs on the field) allows it to use its Facebook wall as yet another revenue-generating advertising space. Besides the posts about players, coaching changes and game analysis – standard fare on every NFL team Facebook page – the Cowboys are that rare juggernaut of a brand that can also put up explicitly sponsored Facebook posts without squelching Fan interaction. A recent post titled "Gatorade Trivia Time," for example, asked Fans to guess how many flavors of Gatorade were stocked in the team's training facility soda machine. In just nine hours over 6,000 people responded. The grand prize? A game towel. The moral of that story? Don't mess with Texas.
2) Pittsburgh Steelers: 3,819,933 Facebook Fans
Like the Cowboys, the Steelers enjoy a committed fan base spilling well beyond their neck of the woods, and the Steelers' Facebook page serves as a hub for the far-flung Steeler Nation. The Steelers post about 2-4 times per day, except on game days when they post regular live game updates on their Wall, giving Fans a chance to comment on the ecstasies and the agonies. And for Steelers fans, well, we know which one they feel more often.
3) New England Patriots: 2,824,822 Facebook Fans
Clocking in at number three, the Patriots feature a recurring Wall Post called "Ask A Pat" in which Fans are invited to submit a question to a designated member of the team:
"Six-time Pro Bowl guard Brian Waters is this week's Ask A Pat! Post your questions here & he'll film a video response tomorrow."
It's a great way to generate comments, connect fans with players, and highlight video posts – even if they aren't always particularly profound. Case in point: "Aaron Hernandez talks about his most meaningful tattoo in this week's Ask A Pat video."
4) Green Bay Packers: 2,533,878 Facebook Fans
With deep roots and a storied history, this small-market team enjoys a passionate following well beyond Wisconsin. In fact, "Packers Everywhere" is the name of a recently launched official fan site where the Packers often link their Facebook posts. And linking seems to be one the Packer's engagement strategies; almost every Wall Post ties back to Packers.com, keeping fans securely inside the Green Bay loop. We were heartened to see one link that somehow just seemed so…Wisconsin:
Get your Pack Attack Mac, Brat Bites, and Cheesehead Beer Bread recipes at the all-new Packers Everywhere Online Cookbook! Submit your own recipe or check out others at the only cookbook made exclusively by Packers fans.
5) New Orleans Saints: 2,354,740 Facebook Fans
Who Dat? Over 2.3 million Facebook Fans, that's who! The Saints are another small-market team consistently hitting above its weight, both in athletic performance and in its branding. The city of New Orleans and its place in our popular imagination might have something to do with that, or maybe it's just that the Saints are the most, as they might say in the South, loquacious, of the top five teams. The Saints sometimes post as much as twelve times per day. Online, as in the bayou, the conversation never stops.
As for the rest of the pack, our scoreboard finds eleven other teams with Fan numbers above the 1,000,000 mark, but a full eight teams still haven't broken the 500,000 threshold. While some of these stragglers are relatively new franchises compared to our top five, we were surprised to find the venerable Buffalo Bills coming in at number 30. Looks like somebody's got some work to do in the off-season.
Don't see your team in the top 5? Find out where they landed on the full scoreboard:
About Track Social
Track Social monitors, aggregates and analyzes the Social Media accounts of thousands of businesses across multiple social media platforms. It operates around the clock, collecting millions of data elements from social media platforms such as Facebook, Twitter, YouTube and LinkedIn.
For more information about Track Social, please visit http://tracksocial.com/
About Sprokkit
The maker of Track Social, Sprokkit, is a marketing agency based in Los Angeles, California. It prides itself on fusing the logical with the inspirational, and generally making sense out of a world full of nonsense.
For more information about Sprokkit, please visit http://sprokkit.com/
###