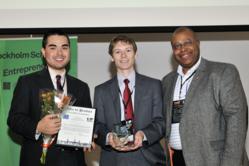 The recognition we've received through participation in these competitions has been invaluable in connecting with potential customers, investors, and strategic partners
Scottsdale, AZ (PRWEB) January 18, 2012
Arizona State University Student Startup Arbsource Inc. has been chosen as "one to watch in 2012" by major tech news site ZDNet. ZDNet recently named Arbsource #4 in a list of 12 startups to keep an eye on in 2012. Arbsource, which uses ASU licensed technology, also has been chosen as a finalist in the Imagine H2O 2011, a competition for Water Startups. Imagine H20 is a nonprofit organization that helps entrepreneurs turn water challenges into business opportunities. Imagine H2O's prize includes $200,000 in cash and in-kind services as well as acceptance into Imagine H2O's Accelerator Program. The winner will be announced in late March, 2012.
This has been a busy 6 months for Arbsource leaders Mark Sholin, Founder and CEO, and Lon Huber, CFO of Arbsource. As well as being a winner in the Cleantech Open competition in the Rocky Mountain region, the company placed second in an international competition in Sweden.
"The recognition we've received through participation in these competitions has been invaluable in connecting with potential customers, investors, and strategic partners" said Sholin. "Although the accolades and prize money are great, making the most out of the networking opportunities are key for long-term success" he added.
Sholin is a former PhD student, and Graduate Research Associate, at Arizona State University, where he played an integral role in designing the ARBCell and is listed as a co-inventor. The ARBCell biological reactor system can cut the cost of wastewater treatment for many food and beverage manufacturing companies by 50% or more through reduced energy consumption and maintenance.
Unlike competitors, hydrogen gas is generated as a byproduct which serves as a valuable and versatile commodity compared to methane. Arbsource offers customers a payback period of four years or less and provides a solution that reduces greenhouse gas emissions related to wastewater treatment by as much as 70%. Doing business with Arbsource is an excellent opportunity for customers to reduce their electricity bills and add value to their waste resources.
Arbsource has been supported in its development by Arizona Technology Enterprises (AzTE), the exclusive intellectual property management and technology transfer organization for Arizona State University, and the ASU Venture Catalyst. "Arbsource is yet another example of the quality research being conducted at ASU which not only reduces manufacturing expenses but also improves the environmental impact in the process" said Charlie Lewis, Vice-President of Venture Development in AzTE.
The startup company is also currently in the ASU Edson student entrepreneur accelerator, run by the ASU Venture Catalyst and based in the SkySong Innovation Center in Scottsdale.
For more information email: Meagan(dot)garrett(at)asu(dot)edu
Phone: (US) +480 884 1814
About Arbsource (http://www.arbsource.us/)
Phoenix- based Arbsource is on a mission to transform wastewater treatment from a costly liability into a valuable resource. Breweries, confectioners, and many other food and beverage processors are burdened with large electricity expenses to manage their wastewater, often totaling six figures per year. For half the cost, we can offer these companies identical treatment speed and quality with our patent-pending and licensed ARBCell biotechnology.
About Arizona Technology Enterprises (http://www.azte.com)
Arizona Technology Enterprises (AzTE) is the exclusive intellectual property management and technology transfer organization for Arizona State University. It works with faculty, investors and industry partners to speed the flow of innovation from research laboratory to the marketplace. AzTE was established in 2003 as an Arizona Limited Liability company with the ASU Foundation as its sole member. For more information: http://www.azte.com/
About Venture Catalyst at ASU (http://www.asuventurecatalyst.org)
Venture Catalyst is Arizona State University's entrepreneurial initiative to help faculty, students and ASU-linked companies launch new startups or accelerate existing ventures. Launched in October 2010 with the help of a $1 million grant from Arizona Gov. Jan Brewer, Venture Catalyst offers investor connections, intellectual property consulting, educational workshops, and one-on-one mentoring opportunities with established entrepreneurs and seasoned business executives. The Edson Student Entrepreneurship Initiative, the student startup accelerator based in SkySong, is part of the Venture Catalyst.
###