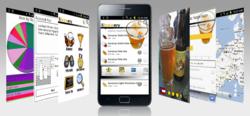 Users of mobile beer apps are interested in the ability to record their own tasting experiences.
Winter Park, FL (PRWEB) January 29, 2012
Monkeys & Typewriters Mobile Development has significantly increased Librewery's catalog of beer entries, providing the user with immediate access to over 6000 of the world's most popular and craft beers. An extended on-line search option provides users access to over 52000 beers, and search results are added to the local database for fast access. Also new is a note-taking feature for those beer tasters and advocates.
"Users of mobile beer apps are interested in having accurate and complete beer data on the beers they try, and the ability to record their own tasting experiences," stated Dave Ritland, Director at Monkeys & Typewriters. "We targeted these features primarily with this release." Previously containing 4700 beers, Librewery's increase to over 52000 beers and the note taking feature offers a lot to users already taking advantage of the the app's rating, information, visualizations, and social sharing capabilities. More information on the app's features is available at the Monkeys & Typewriters website.
The on-line search is straightforward and simple, by typing in a search term. Results are posted to the screen, and also added to the local database. "Optimization of the database was a concern," continues Dave Ritland, "since a database of fifty two thousand beers is cumbersome, even for the most state-of-the-art smartphones. Users want quick and speedy interaction with applications, and this solution gives all the speed of of the original system, while providing an extensive list for less known and rare beers."
Already having an average rating over 4 stars on the Android Market, the recent update addresses requests for an exhaustive list. Most beer apps lack a note taking ability and this also helps set Librewery apart from other competing applications. Available for free, Librewery represents the most complete and functional beer list app on the Market at that price point. The app is available at the Android Market.
About Monkeys & Typewriters
Started in 2009, Monkeys & Typewriters mobile development was founded to develop for underserved areas in the application marketplace.
###