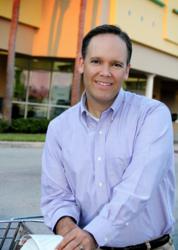 We are having fun celebrating this milestone.
Grand Rapids, MI (PRWEB) January 18, 2012
Five years ago, Josh Elledge combined a personal need to cut his own grocery bills, some innovative technology and his Internet development background and to start helping families match up manufacturers coupons with grocery store sales, saving significant amounts of money and time. SavingsAngel.com was born. Now, the company is marking its 5th anniversary with several special recognitions and give-aways.
Celebrating this milestone has included special recognition for those who were there in the early days and have continued to support the service. Five Grand Rapids area businesses were honored for their pioneering and ongoing support: Great Deals Magazine, JQ99 Radio, the Grand Rapids Press, Wood TV, Clear Channel Radio. Five members with the longest continuous subscriptions were given life-time free memberships. Five long-term employees were recognized for their dedication and contribution to the evolution of this comprehensive service. A recent new member was the recipient of account number 50,000 and was awarded free access for five months.
Adding to the celebration, free access is available to the first 5,000 people beginning Wednesday, January 18 through Friday the 20th. Anyone can claim a free Day Pass by going to http://savingsangel.com/daypass and using gift code: FREEDAY.
With members now in 48 states, SavingsAngel has helped tens of thousands of families directly and hundreds of thousands indirectly. Many report cutting their grocery bills in half. Others report being able to give more food, money and time to their favorite causes. The service started with the sales for three stores and now covers 55 stores in over 20 major markets. Their system references over 2,000 coupons resulting in hundreds of items in every market every week available for at least a 50% discount.
"I am humbled and grateful to look back on those early days and sincerely appreciate those who believed in what we were doing and helped us lay the foundation for where we are today" said Elledge.
"In a competitive climate that includes many free blogs and websites that provide small portions of what is available to Savings Angel members, this anniversary says quite a bit," continued Elledge. "It means our service provides meaningful value for busy moms. It means high-quality information and top-notch service are in demand."
The easiest way to cut your grocery bill in half is through using manufacturer coupons combined with the best sales at local stores. Normally, this takes a lot of work to create a winning shopping list for your family. Each week, SavingsAngel.com combines over 2,000 products on sale at local grocery and drug stores with their enormous database of manufacturer coupons – which are found in Sunday newspapers and printable grocery coupons throughout the Internet. This combination results in access to over 300 products each week for 50% off or better.
Josh Elledge is the Chief Executive "Angel" of SavingsAngel, Inc. – launched from his Holland, Michigan home in January 2007. A husband and father of three, he now appears each week on television, many radio stations and newspapers, teaching families how to cut their grocery bill in half using the Internet. Elledge created the technology found on SavingsAngel.com through the desire to save his own family's money. Successfully able to cut his own grocery bill from $600 a month to less than $300 a month, his message has reached hundreds of thousands of families. SavingsAngel.com is now growing rapidly throughout the country. Sometimes referred to as Extreme Couponing for busy moms. A short video at SavingsAngel.com explains more information about how to cut your own grocery bill in half with the help of this service.
###