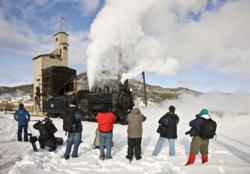 This is the original railroad equipment in the original paint schemes in the original setting," stated Mark Bassett, executive director of the Nevada Northern Railway Museum. "All of this equipment has been on the property for decades."
Pony Express Territory, Nev. (PRWEB) January 23, 2012
This February, amateur photographers from all over the nation will gather at Nevada Northern Railway (NNRy) to take award-winning photographs of historic locomotives and scenic vistas. Although other railways may "toot their horn" to promote winter photo shoot events, NNRy offers the most unique landscape with more shooting options like different trains, numerous railroad cars, and original historic buildings and locomotives.
Located in Ely, Nev., in the Pony Express Territory of Nevada, NNRy is 350 miles east of Reno and approximately 240 miles from both Las Vegas and Salt Lake City. It is Nevada's newest National Historic Landmark (one of only seven in Nevada) and America's best preserved short line and complete operating rail facility. A variety of interactive, engaging railroad experiences take visitors back a century, as they climb aboard a narrated steam or diesel-powered passenger train. One can also "Be the Engineer" and operate an historic steam locomotive – the only place in the nation where guests can grab the throttle and head out onto the mainline. And, guests now have the unique and especially rare option to engineer a locomotive WITH the freight train attached!
Nevada Northern Railway offers two annual Winter Photo Shoot sessions: February 3-5 and February 10-12, 2012. Each session is limited to 30 people in order to ensure freedom of movement, artistic creativity and individual attention. The cost for each two-and-a-half day session is $425 and includes continental breakfast and lunch each day ($835 for both weekends). NNRy members receive a reduced price at $395 per session; $745 both weekends.This is a rare opportunity to participate and learn about heritage railroading and to be mentored by one of the finest rail photographers in the nation, Steve Crise.
Crise has worked as a professional still photographer and lighting director for 30 years, traveling on assignment to Europe, Japan, Australia and Canada. He's photographed Michael Jackson, Rod Stewart and other celebrities. He's also shot annual reports for the Union Pacific Railroad and is currently working on projects with the Burlington Northern Sante Fe Railway in Forth Worth, Texas. His evocative style has taken him out in the field capturing wide, panoramic vistas for some of America's leading transportation companies.
Winter time in Ely, Nev., offers photographers natural backdrops that change quickly due to the weather, making for dramatic images. Historic Steam Locomotive 93 looks spectacular on a 20 degree day in February with billowing white clouds of steam plus plumes of black and gray smoke towering above canyons and valleys. Past Photo Shoot participants have experienced every type of meteorological conditions that wintertime brings in Ely. At NNRy, trains are still made up with wooden cars whose origins date back as far as 1872. For the Winter Photo Shoots, the railway crews will be in period dress, adding to the experience.
"Nevada Northern Railway is not a mishmash of equipment from different railroads or different countries, nor is the equipment prettified or garish. This is the original railroad equipment in the original paint schemes in the original setting," stated Mark Bassett, executive director of the Nevada Northern Railway Museum. "All of this equipment has been on the property for decades and, in a couple of cases, more than a century, all of it still operating on the original track that was graded and laid a century ago."
Smithsonian Institute's Curator of Transportation History, William Withuhn said, "Among all railroad historic sites anywhere in North America, the Nevada Northern Railway complex at East Ely is—no question in my view—the most complete, most authentic, and best cared-for, bar none. It's a living American treasure and a stand-out one…everything is still there."
Nevada Northern Railway Museum has also been voted "Best Place to Take Kids" for five years in a row by Nevada Magazine readers and has been featured many times on PBS, as well as The History Channel's "Modern Marvels" and several recent episodes on "American Restorations," with additional episodes scheduled.
For more information on the Winter Steam Photo Shoots and Nevada Northern Railway Museum, call toll-free at 866-40-STEAM. Nevada Northern Railway is located in Ely and White Pine County.
Anytime of the year, the Pony Express Territory offers plenty of things to do and see for a vacation. The six main towns have approximately two hours of driving distance between each − Dayton, Fallon, Fernley, Austin, Eureka, and Ely. The routes that link these towns have come to be known as one big 17 million acre museum. The "museum" greets visitors with expansive terrain, natural wonders, historical heritage and one-of-a-kind events found only in this area of the rugged West.
The Pony Express Territory welcomes the media to the online pressroom with exclusive high res photography and fresh story ideas. We're available to help you tour, customize your story, and more.
Sign up for the complimentary Pony Express enewsletter.
ABOUT THE PONY EXPRESS TERRITORY
Nevada's Pony Express Territory sits on 17 million acres of wide open space with 150 years of rich history, rugged undisturbed nature and black night skies. The Territory is where the Pony Express riders once galloped along its main trail, now Highway 50, connecting the six adventurous towns of Dayton, Fallon, Fernley, Austin, Eureka and Ely.
1,840 miles of wilderness was crossed in the Nevada "Pony Express Territory". Twenty years ago Life Magazine designated this section of Nevada State Highway 50 – "America's Loneliest Road." For more information about The Pony Express Territory, call 1-888-359-9449.
Follow us on Facebook and Twitter.
###