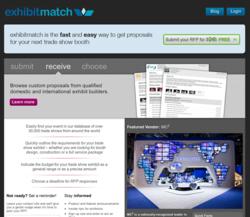 Our job is to promote a more efficient trade show planning process by bringing together exhibitors and top stand builders on nearly every continent
Las Vegas, NV (PRWEB) January 18, 2012
Corporate marketing managers have a new resource for trade show planning: via a bidding platform powered by ExhibitMatch (http://www.exhibitmatch.com), users can submit exhibit requirements and receive competitive proposals from booth builders in more than 60 countries.
ExhibitMatch users who create free accounts may post their trade show Request for Proposals (RFPs) on the website at no cost. Driven by a database of 35,000 events, ExhibitMatch collects users' relevant exhibit requirements while simultaneously drafting a virtual RFP for tendering.
Before posting their exhibit requirements on the website for bidding, exhibitors may elect to invite a vendor of their own choosing to participate on their RFP. Up to three vendors may respond to each RFP.
Exhibitors can compare competing booth designs and quotations online; awarding contracts to vendors on ExhibitMatch is not required.
Tim Sullivan, ExhibitMatch Co-Founder and CEO, summarizes the company's value for users: "With the marketplace atmosphere we're cultivating at ExhibitMatch, we're helping marketing managers to make more informed buying decisions related to their global trade show programs. Trade shows are an essential part of the marketing mix for most companies; given current economic conditions, many trade show coordinators are seeking ways to maximize reduced exhibit budgets."
Regarding the company's emergence as the first platform for the exhibition industry, Sullivan concludes, "Our job is to promote a more efficient trade show planning process by bringing together exhibitors and top stand builders on nearly every continent."
Founded in 2010, ExhibitMatch connects trade show exhibitors with qualified vendors in an interactive bidding environment.
For additional information or for general press inquiries, refer to the contact details at: http://www.exhibitmatch.com.
###