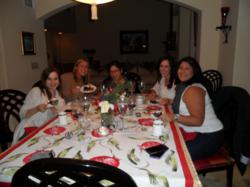 "Our time at Lajollacooks4u is a memory that will not be forgotten" Kelly Baker
San Diego, CA (PRWEB) January 18, 2012
Lajollacooks4u, a cooking and dining experience, was selected by a San Diego- based division of Formula public relations for a teambuilding event and holiday celebration.
With offices in San Diego, Los Angeles and New York, the national public relations company brought its consumer technology team to Lajollacooks4u to participate in a hands-on cooking and culinary adventure on December 8th, 2011. The group created its very own four course meal, along with wine pairing.
Kelly Baker, Formula PR's Vice President of Consumer Technology, met Jodi Abel, founder of Lajollacooks4u, at the San Diego airport. The two women shared a passion for food and the chance meeting resulted in Baker bringing her team to Lajollacooks4u for an evening of cooking, dining and teambuilding. "I knew that Jodi would create a memorable, fun and delicious evening for us," Baker said. "We left excited to impress our friends and loved ones with our new cooking skills. It was a wonderful twist of fate to meet her while waiting in the airport security line!" Baker said.
Abel echoed that thought. "Each day is a new adventure and meeting Kelly that day, in many respects, was meant to be," Abel said. "We got to know each other better during the cooking class, coupled with the fact that it was a privilege to meet the rest of her team," Abel said.
About Formula
Founded in 1992 by President Michael Olguin, Formula is a national public relations boutique with offices in New York, Los Angeles and San Diego. The progressive agency is committed to providing creative marketing solutions that yield bottom-line results for today's passion brands. Formula looks at the branding process as one driven not only by public relations, but also by marketing, brand activation, co-branding, promotions, social media, and other communications. The signature part of Formula's process is storytelling. By creating compelling brand stories, Formula provides a vehicle for clients to connect with target audiences on a level that truly resonates with them. Through this integrated approach, the agency can significantly impact a brand's sustainability and point-of-difference in the marketplace. Formula's practice areas include consumer, lifestyle, business, technology, sports, entertainment and travel. Formula's high-profile clients currently include Behr, Belkin, Kashi, Tribe Hummus, Honest Tea and Victorinox Swiss Army. For more information, visit http://www.formulapr.com.
Lajollacoks4u, founded in 2008, provides an ideal activity for couples, corporate team building and any foodie looking for a cooking and culinary experience in an ideal setting overlooking the Pacific Ocean. Based in La Jolla, a suburb of San Diego, CA, Lajollacooks4u has enjoyed record growth since its inception and has been ranked the number one attraction in La Jolla on the world's largest travel review site, Trip Advisor. For more information, contact Jodi Abel at jodi(at)lajollacooks4u(dot)com or phone 1-858-752-4980
###