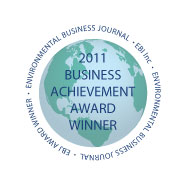 "2011 was a banner year for our environmental practice, and we look forward to continued success in 2012," stated President David McCormack.
Richland, WA (PRWEB) January 18, 2012
Nationally recognized environmental services firm Dade Moeller is proud to announce its silver medal win for outstanding business performance in 2011 from the Environmental Business Journal. In its 14th year, the respected Journal's awards program ranks environmental firms based on various categories including size. Dade Moeller's second-place win was in the mid-size firm ($20–$100 million revenue) category.
In 2011, Dade Moeller increased its revenue by 34% to $55 million, up from $40.9 million in 2010. Fifty percent of the company's 70 new employees in 2011 were hired to support the National Oceanic and Atmospheric Administration's (NOAA) efforts to assess environmental damage in the Gulf of Mexico after the BP oil spill.
Also in 2011, the company expanded in Oak Ridge, Tenn., and moved its analytical and calibration laboratory there to support current and future operations, including its 104 commercial contracts, which contributed $2.3 million to the company's 2011 revenues. Its Dade Moeller Training Academy also offers 30 courses at 5 locations, as well as online, and is positioned for growth in 2012 with the advent of 7 new worker safety training courses and 2 new training sites.
"We are honored by the Journal's recognition of our growth within the environmental industry and to be ranked from among so many of our deserving peers," remarked President David McCormack. "2011 was a banner year for our environmental services practice, and we look forward to continued success in 2012."
Also in 2011, the Zweig White Hot Firm List ranked Dade Moeller as the third fastest-growing environmental consulting firm in North America, and Seattle Business magazine named the company as one of the best 100 companies to work for. This was the first year the company was nominated for a Journal achievement award.
ABOUT DADE MOELLER: Founded in 1994, Dade Moeller is a nationally recognized firm that provides a full range of professional and technical services to 156 federal, state, and commercial clients in support of environmental, nuclear safety, radiological services, and worker safety operations.
###