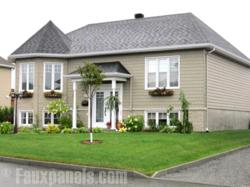 Sand Blend faux stone works in a traditional or a contemporary home
Deer Park, NY (PRWEB) January 24, 2012
Faux Panels' Novi line of stone veneer now has two new colors that are sure to please both style-minded and conservative consumers. Onyx and Sand Blend add black and warm tan shades to the already popular line of stone wall siding.
"In a cautious economic climate, some homeowners prefer neutral shades like onyx and sand to provide the greatest versatility in their decorating -- and some people just like the flexibility," said Steve Barron, president of Faux Panels.
Novi stone wall siding is popular with both DIYers and contractors. Its realistic look and texture provides a fabulous foundation edging or the appearance of an entire stone wall without the time, expense or work genuine stone requires.
Unlike real stone, Novi stone siding requires very little maintenance – only routine cleaning. Genuine stone eventually dusts and can be brittle. Siding made of polypropylene is durable, won't chip or crack, and withstands extreme temperatures.
Stone Panels in Black Are Anything But Basic
"Everyone knows that black goes with everything, so Onyx will be extremely popular. Customers have been asking for a darker shade than our Smoked Gray and Gray Black faux stone panels. Onyx was designed with that customer request in mind," said Ruth Barron, vice-president of Faux Panels.
"Plus black faux stone can be used in everything from a sleek, ultra modern design to a rustic country design," added Steve Barron.
Besides being neutral, black can also convey sophistication. Decorators frequently mix black into their designs, and not just as an accent. Onyx panels will now allow designers to incorporate both black and the look of genuine stone.
Sand Blend Stone Veneer Creates Ultimate Flexibility
Sand Blend was designed to add warmth to a room in lovely shades of medium tan, providing additional versatility. It can tone down and balance a colorful decor or frame and accent a focal point.
"Sand Blend is perfect for a Southwestern design but its look and feel of genuine stone works equally well in a traditional home or a contemporary design," said Steve Barron.
Whether a homeowner is looking for low-maintenance living or high end style, Novi Onyx and Sand Blend faux stone siding provides the perfect solution.
FauxPanels.com is an industry leader due to wealth of installation guides for DIYers and the best selection of the realistic faux brick, stone and wood panels and columns on the market. Its products have been regularly featured on television shows such as "Celebrity Apprentice" and numerous appearances on "Extreme Makeover: Home Edition." FauxPanels.com is a subsidiary of Barron Designs Inc., a family-owned home improvement business operating since 1972. For more information, visit FauxPanels.com.
# # #