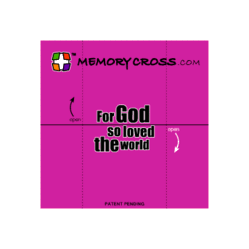 John 3:16 is the most quoted verse in the Bible.
Jamestown, NC (PRWEB) January 19, 2012
John 3 verse 16 is the most quoted Bible verse ever and has been shared by millions of people. It's simplicity summarizes the essence of God's love.
For God so loved the world
That he gave his one and only Son
That whoever believes in Him
Shall not perish, but have eternal life. - NIV
Memory Cross has created an origami style card using this verse in bright primary colors that children and youth love.
The card can be used in a number of ways: As an outreach tool, to share with friends, for mission trips. to teach children the verse, as an Easter card or tract.
Each card contains four panels that make an endless loop. The design captures people's attention as they try to figure out how it works. This unique design makes it a great tool for outreach because it captures so much attention. It also makes it easy for parents to teach their children this verse since it breaks the verse down into four smaller sections.
About Memory Cross. Memory Cross creates origami style cards that share the Gospel and teach children Bible verses and stories. They are available as scripture memorization cards, Christian tracts and to teach children Bible stories.
###