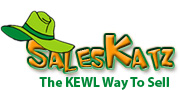 Cleveland, Ohio (PRWEB) January 18, 2012
SalesKatz, Inc. developer of the world's first true sales prospecting automation tool for salespeople, today announced that following completion of their Beta test program, their first product release will be launched in mid 2012.
SalesKatz is the first application to leverage the power of artificial intelligence for the sales professional. "For too long, salespeople have been provided sales tools that really aren't sales tools, they're management tools," said SalesKatz CEO, Ken Zebracki. "We're changing that mentality completely at SalesKatz."
"The fundamental process about how a salesperson works hasn't changed in over 40 years. Oh sure, we now have computers, SmartPhones and iPads, but other than accessing databases faster, we really haven't changed the way a salesperson works in any fundamental way."
"Sales Managers still believe sales is a numbers game. Well, I have news for them, it's not. Sales is no longer a numbers game it's an information game. But for that information to be useful and actionable, it must be relevant! Our proprietary search engine uses AI to accomplish this fundamental goal. We don't just provide the salesperson a laundry list of information for them to wade through, we parse it out and make sure the information we provide is relevant to the salesperson because no one has the time to read pages and pages of data."
"As we continue to refine SalesKatz through our Beta testing process, we're targeting mid-2012 as our official launch target. Every salesperson we talk to is clamoring for our app and we can't wait to show them the finished product."
About SalesKatz
Privately held with world headquarters in Cleveland, Ohio, SalesKatz has dramatically refined the sales process by utilizing advanced search engine techniques that align sellers and buyers in B2B selling situations. Founded in 2011, the company develops software applications that help salespeople align their product attributes with potential buyers needs by scouring the web for information utilizing their proprietary search engine. To find out more about the next generation in business software, visit http://www.saleskatz.com.
###