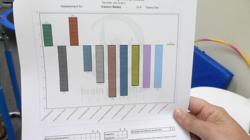 It's indescribably rewarding to see students who once were struggling in school, become high achievers. Their confidence levels excel beyond what anyone could imagine. Brain training is so effective, we're hoping schools will one day offer it.
Conroe, TX (PRWEB) January 25, 2012
Brain Potential Institute now has conclusive evidence that its popular one-on-one brain-training program is as successful in treating children and teens with learning problems and attention deficit disorders via online, as when the program is implemented at its center. Students work face-to-face with a trainer over the Internet via Skype, using tools that make it possible for students to respond verbally or in writing. The online program allows students to work with brain trainers in the privacy of their homes. The Brain Potential Institute program does not use computerized methods.
"You cannot optimally repair a brain by pushing a space bar," said Jane Davis, P.T., MSHP, CEO and founder of Brain Potential Institute. "Developing new neuropathways requires repeating highly specific brain exercises that target various areas of the brain in relation to the students' deficiencies. This can only be accomplished by an expert brain trainer that can work with the student one-on-one every step of the way."
Virtual Online Training or VOLT, was launched two years ago to extend the company's services globally. Now, nearly all of Brain Potential Institute's students are receiving brain training online to treat ADD, ADHD, dyslexia, central auditory processing issues, and attention and focusing deficits with successful results.
"The online brain training program is extremely popular because students who were failing in school are now getting B grades or better, and often making honor roll," said Davis. "Many of our students have jumped three grade levels in reading and math, and raised their IQs by up to 30 points."
Brain Potential Institute, a long-established leader in brain training, is one of the few companies that have proven to increase a person's IQ by such a significant number. Its program is based on neurogenesis--the plasticity of the brain and its ability to create new neuropathways. Recent studies offer proof that brain training implemented by a skilled trainer is highly effective. It works because neuropathways transmit thoughts from one area of the brain to another. When the brain is not wired properly i.e. fully developed in one or more areas, learning problems are inevitable.
"Strong wiring of the brain is the critical missing link before tutoring can be effective, which is why, for many students, tutoring does not work," said Davis.
Once students complete the online brain-training program, they typically overcome learning problems because these highly developed brain exercises create the neuropathways critical for improving attention and focus, retaining information, staying on task and following multi-stepped directions. The brain trainer then facilitates wiring the new neuropathways together with those of the brain that were already well developed so its systems work optimally together. At that point, their motivation to learn increases and they are receptive to tutoring.
"Children and teens become highly frustrated and feel defeated when their brains keep them from learning at the same pace as their peers," said Davis. "Our goal is to optimize their brains so they can excel. We have successfully helped children and teens with learning problems stemming from ADHD, ADD, central auditory processing issues and dyslexia for years."
Additionally, children and teens with learning problems often don't pick up on social cues, as do students whose brains are fully developed. The brain-training program takes approximately 72 hours for maximum results and once complete, students are able to pick up on social cues. This makes it possible for them to make better choices. Additionally, they often are less exhausted and frustrated, which improves their behavior.
The company's decision to offer the program online, has proven a giant leap in the brain-training field. By eliminating borders and allowing people from many countries to enter the Brain Potential Institute's highly effective VOLT brain training program, the company is experiencing a huge increase in clients from England, Australia and other English-speaking countries.
Because the program also incorporates its brain training with follow-up tutoring, students get up to par academically and most experience permanent results. Standardized IQ & Achievement testing validates and verifies the incredible success students experience at completion of the Brain Potential Institute's brain training program.
Brain Potential Institute is based in Montgomery County, Texas. It is located approximately 30 miles north of Houston. Most of its students that attend locally live within the communities of the Conroe, Magnolia, Montgomery, Willis, Woodlands, Champions, Cy-Fair, Tomball and Spring areas.
Jane Davis, P.T., M.S.H.P, co-authored along with Dr. Deepak Chopra, a pioneer in integrated medicine inclusive of mind, body and spirit and Jack Canfield author of the Chicken Soup for the Soul series, the recently-published book "Stepping Stones to Success."
About Brain Potential Institute
Brain Potential Institute in was founded in 2002 as Kid Potential Inc. The company expanded its services to provide on-site and online brain training to teens, adults and seniors, which required rebranding itself as Brain Potential Institute. Brain Potential Institute is dedicated to optimizing through cognitive training, the human brain to reach its highest intellectual potential for optimum performance at school and work, and to preserve brain function at all ages. Brain Potential Institute accepts students ages 3 through 90. Screenings are free. Please visit http://www.brainpotentialinstitute.com, or call 936.539.4574 or 877.600.6565 for more information.
# # #