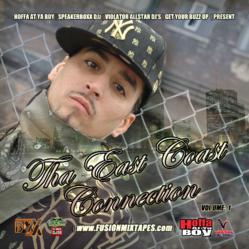 Miami, FL (PRWEB) January 18, 2012
Violator All Star DJ Fusion recently released the mixtape "Tha East Coast Connection." Coast 2 Coast Mixtapes presents the project in association with Hoffa At Ya Boy, Speakerboxx DJs, Violator All Star DJs, and Get Your Buzz Up. Hosted by Shah, it is now available for free download. "Tha East Coast Connection" features guest artist appearances from Benny Blanco, Chic Raw, S.H.A.H. Cypha, P.U.N., Nox, Natrian Maxwell, and more.
Shay Newman, aka DJ Fusion is an award-winning Violator All-Star DJ whose talent on the turntables and truly remarkable mixing skills have earned him the reputation as one of the top, club-packing DJs in the world. Fusion's mixes have been heard internationally on Sirius XM Radio along with several terrestrial stations nationally. His experience, talent, and artist relationships provide him with access to the newest and most music (both local and international) of any DJ coast to coast. Fusion is also a resident DJ for Extreme Foam Parties, regular host of weekly mix shows on 93.1 JAMZ (WJQM) and 95.9 KISS FM (WKSZ), in addition to his regular appearances on SHADE 45 / G-Unit Radio – Big Sundays with Miss Mimi.
Shah wears multiple hats in the hip hop world. Not only is he vice president of the Get Your Buzz Up showcases, content manager for GetYourBuzzUp.com and Coast 2 Coast Mixtapes' blog, but he also books shows nationally and locally in his home base of Madison, WI. He serves as manager to well-known DJ Pain 1, along with I20 as a group they have formed. He also manages artist Yella The Triple Threat, who is currently promoting her single "For The Light." The track has been featured in Source magazine, and she will be appearing in the March issue of XXL.
"Tha East Coast Connection" is available for free streaming and download at http://coast2coastmixtapes.com/mixtapes/mixtapedetail.aspx/tha-east-coast-connection-hosted-by-shah-608shah-kingfusion-teambennysosa
###