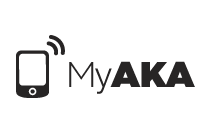 Los Angeles, CA (PRWEB) January 19, 2012
Personal privacy and mobile technology are fixtures of everyday life, a belief held firmly by MyAKA.com (http://www.myaka.com). Now, they are using one to improve the other through their service which allows users access to a second mobile number to provide to new or unknown contacts, allowing for true mobile identity protection.
The practice of giving out ones mobile number has become increasingly common, to the point that many no longer have home or even business phone lines. Yet, providing ones mobile number to people they've never met – whether in business, at public functions or through online activities such as dating and social media – comes with risks. Basic internet searches allow others to search mobile numbers to try and obtain personal information such as address and other information which may be used for identity theft and other illegal activities. This is where MyAKA comes in by providing a second mobile number which is not tied to the users personal information in any way.
MyAKA is a privacy protection service which allows a consumer to signup for a second mobile number with a local area code. The service does not require a second phone, functions just as a regular mobile number and does not require any extra downloads, applications or Internet/Wi-Fi connectivity. MyAKA is not a forwarding service, but a two way system which protects the persons real number on incoming, as well as outgoing calls and text messages. The service also has a number of built in privacy features.
These features include the ability to pause ones number – calls are forwarded to voicemail and text messages are stored to be delivered once the user wishes to resume activity – blocking of unwanted contacts via text message and easy notification of whether a call from an unrecognized number is a MyAKA or regular contact.
"Privacy is one of our fundamental rights as individuals and while I feel that technology has brought us many amazing conveniences, it has also opened up the possibilities of our information and our privacy being invaded", stated John Skorick, Founder and CEO of MyAKA.com, LLC. "The idea behind MyAKA is to provide a layer of protection through one of our most vital resources – our mobile phones – and I welcome and encourage any feedback on how we may improve the services which we provide to our valued customers".
MyAKA is a service built solely with the ideas of privacy in mind. MyAKA does not sell or release any information to 3rd Parties unless required to do so by law.
For more information on the company's Pivacy Policies: http://www.myaka.com/privacy.html
About MyAKA.com, LLC
MyAKA.com, LLC is a Los Angeles, California based startup which provides personal privacy services through the use of mobile technology. The founders of MyAKA.com have over 14 years of experience in eCommerce and Internet Marketing, as well as more than twenty years of experience in enterprise level database and networking systems and telephony.
###