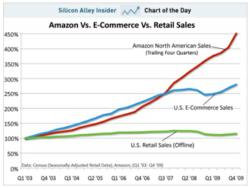 Over the next year these online giants will wipe out the Internet little guys, just like Wal-Mart and Home Depot did in the offline world ~ Ryan Deiss of Digital Marketer Labs
Austin, TX (PRWEB) January 18, 2012
Digital marketer Ryan Deiss understands that major retailers, such as companies like Wal-Mart and Home Depot, have more than destroyed the mom and pop small businesses of America. Ryan Deiss realizes the same thing is happening to online business marketers, by the giants like Google, Amazon, and Apple. Ryan Deiss remarks, "over the next year these online giants will wipe out the Internet little guys, just like Wal-Mart and Home Depot did in the offline world." This knowledge of the coming shift in online marketing caused Ryan Deiss to release his new e-book "The End of the Web (As We Know It)", and provide one complimentary copy to people searching for online business optimization.
Ryan explains in "The End of the Web (As We Know It)", that all technology goes through 5 phases, which are:
Phase 1 - Invention
Phase 2 - Proliferation
Phase 3 - Regulation
Phase 4 - Consolidation
Phase 5 - Innovation
The Internet marketing strategies that Ryan Deiss explains in his e-book "The End of the Web (As We Know It)", are the very same strategies that he learned from studying great innovators, like Henry Ford, who understood this technology cycle, and took advantage of the business opportunities of the moment. Ryan reveals in the e-book that there are online business opportunities that are available, to the few that understand where we are in the technology cycle, and know how to take advantage of that knowledge.
People that have a business online, can use the very same marketing strategies that Ryan Deiss used to generate $18 million last year, by studying the ebook "The End of the Web (As We Know It)". For a limited time basis, the digital marketing expert Ryan Deiss, is offering a complimentary copy of his $49 e-book "The End Of The Web (As We Know It)" with every free subscription to the Digital Marketer, which was developed to help people with their online business.
About Digital Marketer
The panel of the Digital Marketer newsletter consists of 16 of the worlds most experienced, and talented experts, who have the simple philosophy of Internet marketing, which is what worked yesterday - won't always work tomorrow.
Download one complimentary copy of "The End Of The Web (As We Know It)" e-book, that reveals the simple steps of restructuring an online business for success in 2012.
###