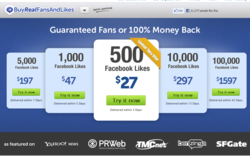 Get a 15% discount on your second purchase now.
Ottawa, ON (PRWEB) January 19, 2012
Buy Real Marketing – a world provider of Web 2.0 Business Applications, announces its latest offerings to its number 1 provider in Facebook Fans and Likes. Buy Real Fans and Likes is now offering a fifteen percent (15%) discount to all clients who wish to purchase a second order of Facebook Fans and Likes alongside their current order.
"We want to provide our customers with a lot benefits because we know they deserve it. It's just a little something that will let them know how much we care about them. Imagine all the savings that they can accumulate over time by taking this opportunity," says Business Development – Managing Director, Jonathan Kennedy.
Clients who wish to avail the 15% discount offering can do so by merely clicking the option when they check out to purchase their order. Clients who have already clicked on this option will receive the 15% discount immediately on their second Facebook Likes order.
"We noticed that our clients were coming back to us very often and we decided to implement this change. Our company values our clients very highly and which is why we want to provide them more benefits especially to those who value our service as well," mentions Managing Director, JP Bisson. Buy Real Fans and Likes is in the business of providing small and medium businesses the online credibility needed to keep up with the stiff competition in the industry.
Buy Real Fans and Likes is a site that belongs to Buy Real Marketing. Its mother company offers the following online media services: Buy Real YouTube Views, Buy Real Twitter Followers, Buy Real Vimeo Views, Quick SEO Results and more. They are the top providers in the industry. They aim to continue their successful streak with constant updates and progress for the company.
To learn more about Buy Real Fans And Likes and their latest updates, visit their website at http://www.buyrealfansandlikes.com.
About
Buy Real Marketing is wholly owned by Clicking Labs, Inc. Clicking Labs is a well established internet marketing company founded in 2010 by Jean-Patrick Bisson, Diana Quartin and Jonathan Kennedy. The company specializes in driving search marketing and social media traffic, social web app development and conversion optimization. Each product or service specifically helps small/medium website owners increase online visibility and improve online sales.
###