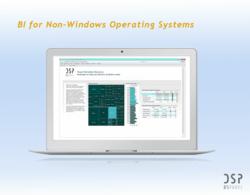 By extend Performance Canvas Studio to support OS X, Linux and UNIX, we've ensured that no business is left behind the business intelligence revolution.
Los Altos, CA (PRWEB) January 24, 2012
DSPanel today announced that they are extending native support for OS X, Linux and UNIX operating systems in their flagship product, Performance Canvas Studio. By adding support for non-Windows operating systems, DSPanel is ensuring that hundreds of thousands of businesses will now have access to the same innovative business intelligence tools that Windows users have had access to for over 10 years.
Performance Canvas Studio allows business users to send, update and access their dashboards, reports and analysis in any web enabled mobile device or in the cloud. These same capabilities were lauded in Gartner's "Who's Who in Mobile BI" report. Performance Canvas Studio is designed to work as a standalone or embedded within other business intelligence tools or portal with integration that can be done through a Java client or through a web services client. The admin UI enables users to quickly connect to any data source, to set up instances of databases to serve multiple client organizations and allows an unlimited number of business users and across multiple companies to access the same information, without reduced performance. Organizations also have the option to set up their environment wholly in the cloud or a combination deployment combining on-site and cloud based functionality using Canvas Online. Canvas Online is running on Amazon EC2 – Amazon's Linux based cloud server.
"Since 2000, business intelligence technology has made great leaps but the problem has been that businesses that have chosen to use non-Windows based technology have been left out" explains DSPanel CEO Jan Morath. "Our vision has always been to bring BI to all business people and now that more business people are choosing non-Windows based technology, we want to make sure those business people can access their companies' business intelligence data as well. By extend Performance Canvas Studio to support OS X, Linux and UNIX, we've ensured that no business is left behind the business intelligence revolution."
Performance Canvas Studio is an extensible, flexible browser based self-service product that enables users to drag-and-drop visualizations and design reports in an agile WYSIWYG environment without needing to know complex query languages such as MDX. Enabling Performance Canvas technology on non-Windows based operating systems enables more business users to access decision critical business intelligence data, financial departments to speed up their financial closes and allow users to create and share dynamic reports.
To learn more about business intelligence tools for your non-Windows based operating system, visit DSPanel at http://www.DSPanel.com/products/performance-canvas/os-x-support/
About DSPanel:
Since 1999, DSPanel has been a leader in end user focused business intelligence tools and structured financial planning technology. Our premise is that Business Intelligence should enable you to create dashboards that answer any question, facilitate collaboration and enable your organization to make smarter decisions. From Supply Chain to Finance, DSPanel products have helped companies shorten budget cycle times, increase profitability, manage and improve departmental performance and facilitate organizational change. At DSPanel, we are excited for you to join the more than 1500 companies around the globe that have opened the door to their data using our technologies.
To learn how our solutions can help your organization, visit http://www.DSPanel.com Find DSPanel on Twitter @DSPanel or on Facebook DSPanel
###