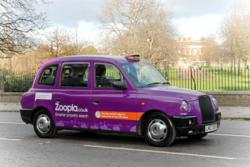 Taxis deliver a combination of broadcast coverage and guaranteed one-to-one engagement
London (PRWEB UK) 19 January 2012
Zoopla, the UK's fastest growing property website, has today launched a six-month advertising campaign with Ubiquitous, the UK's leading taxi advertising company, which will see a fleet of hundreds of London cabs fully liveried in Zoopla's distinctive purple branding and deliver coverage to 93% of the capital's audience during the campaign.
The branded London taxis, part of a multi-channel marketing campaign from Zoopla which also includes national TV, print and radio, follow the campaign's 'smarter property search' theme with each cab uniquely branded with different property data for various areas of the capital, giving Londoners the information they need to make better-informed property decisions.
The campaign is designed to further increase Zoopla's brand awareness in an effort to close the gap with its main rival Rightmove and to deliver even more exposure and leads for its estate agent members.
Alex Chesterman, Founder & CEO of Zoopla said: "Zoopla is fast becoming a household brand because of our track record in providing consumers with the information they need to help find their next home and make better-informed property decisions. We are really excited by the opportunity offered by using uniquely liveried taxi advertising to engage specifically with Londoners as part of our wider multi channel national advertising campaign."
Andrew Barnett, MD of Ubiquitous, commented: "Taxis deliver a combination of broadcast coverage and guaranteed one-to-one engagement with an audience of relatively affluent passengers - making them the perfect medium to engage a diverse property-seeking audience. Creatively the campaign delivers the idea of 'local knowledge' and is a first of its kind with each cab branded differently."
About Ubiquitous
Founded in 2005, Ubiquitous is the benchmark in UK taxi advertising, the market leader in a highly competitive sector and an important stakeholder in the UK outdoor advertising market.
The Company's leadership team offer more than 75 years of combined industry experience; between them they've successfully brought to market almost every innovation in taxi advertising, including TipSeats, Liveries, SuperSides, FlexiLivery and MegaSides.
Through a philosophy founded upon delivering first class service to advertisers and taxi drivers, Ubiquitous has experienced sustained and positive growth since its founding and today operates a national fleet of black taxis that carry advertising from a wide variety of valued clients, including LG Mobile, Givenchy, Vodafone UK, Selfridges, MasterCard, American Express, and Microsoft.
About Zoopla.co.uk
Zoopla.co.uk is the UK's most comprehensive property website, focused on empowering consumers with the resources they need to make better-informed property decisions. We help our users make sense of the residential property market by combining property listings with market value data, local information and community tools.
Zoopla.co.uk was founded on the principles of transparency and efficiency and everything we do aims to make the market more effective for both property consumers and professionals alike. By combining free, instant value estimates for every UK home with sold prices, local market information and hundredsof thousands of properties available for sale and to rent, Zoopla.co.uk has rapidly become the ultimate destination for property consumers to search for property and do their market research. Our unique features allow users to gain an insight into the market and discover information they won't find anywhereelse. And, as a result, we have become one of the most valued sources of both applicant and vendor leads for UK estate agents.
Launched in 2008, we are the fastest growing property website in the UK, now attracting over 10 million visits per month and are proud to have been awarded numerous accolades including being listed in the Top 10 UK Tech Companies (Guardian) and the Top 10 Most Innovative UK Companies (Smarta 100) as well as being voted the UK's Best Property Portal (Web User, Daily Mail Awards, Website of theYear).
Zoopla Ltd is a privately held company with a highly experienced and proven management team, led by Founder and CEO, Alex Chesterman, and backed by well-respected angel investors and leading venture capital firms Atlas Venture (http://www.atlasventure.com) and Octopus Ventures (http://www.octopusventures.com).
# # #