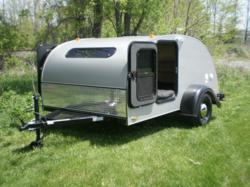 Retro brands and product are hot right now.
Massillon, OH (PRWEB) January 18, 2012
Little Guy Worldwide, the world's leading distributor of teardrop camper trailers, reports seeing a substantial growth in its customer demographics over the past year, with young and old customers alike being drawn to these diminutive little campers that can be towed by virtually any car with a hitch.
It's a Saturday morning at the company's headquarters and showroom in Massillon, Ohio, and Joe Kicos, owner of Little Guy Worldwide Teardrop Camper Trailers has just gotten off the phone with a prospective dealer in Witchita and is greeting three young college students who have stopped-in to take a look at the company's teardrop trailer selection. "They were just driving by, explains Mr. Kicos, and the product caught their eye. They turned around and pulled into the parking lot to check things out." In the meantime, company Chief Operating Officer Chris Baum is out in the showroom speaking to a retired couple in their late 70s who have just purchased a Silver Shadow teardrop trailer.
"We just can't wait to get out on the road with our new teardop," says Rebecca Ford. Rebecca and her husband Floyd drove about three hundred miles to pick out their new camper, and it's apparent that they are excited about spending time traveling and sleeping in this tiny little RV. Asked why they purchased a teardrop trailer, they look at each other and Floyd begins, "I built a teardrop back in 1954 and we took it on our honeymoon to the Great Smokey Mountains. We called it our 'honeymoon coach,' and we had just the most wonderful time in it. We used it as the kids were young and eventually upgraded to a larger camper, but we've always missed the freedom afforded by our little teardrop trailer."
The photos on the walls in the Little Guy showroom tell the story. "At last count we had about five hundred framed photographs from customers from all over the world. We call it 'miles of smiles.' " There are pictures of television celebrities, professional athletes, young people, and even a woman who drove her trailer to the arctic circle. "There's no doubt," says Mr. Baum, "that the one common thread that ties our customers together is the sense of freedom afforded by camping in a teardrop camper trailer: freedom from hauling a large, unwieldy camper; freedom from paying high gas prices; freedom from bed bug infested hotel rooms; and freedom just to get away on a whim."
According to marketing consultant Matt Williams, "Retro brands and products are hot right now. Little Guy teardrop campers has successfully leveraged a vintage product to attract both younger older customers and everyone in between."
Little Guy Worldwide is the world's leading distributor of teardrop camper trailers with dealers in the U.S., Canada, Israel, Japan, Australia, Europe, and South Africa. The company's teardrops are manufactured in Sugarcreek, Ohio by Amish craftsmen. Teardrop camper trailers are small recreational vehicles between four and six feet wide that contain a mattress, cabinets, and usually galley. Teardrops may also have a sink and a small refrigerator and are so lightweight that they can be towed by the smallest production cars currently available on the automotive market.
###