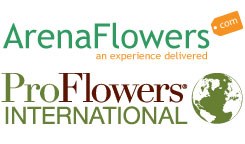 With Arena Flowers [...] we are now able to offer our customers world-class international floral delivery service.
London, United Kingdom (PRWEB) January 19, 2012
"We are delighted to be working in partnership with the premier flower and gifts business in the US to provide their customers with global delivery of high-quality, fresh flowers. Provide Commerce, the parent company of ProFlowers, is a spectacular success story by any measure, having in a matter of years gone from a young emerging growth company to an established US market leader in a competitive landscape. We are impressed by Provide Commerce's focus on quality, value and the customer experience across all of their brands, and admire the way ProFlowers has successfully introduced its unique approach to the flower market for the better since arriving on the scene in 1998. We're delighted to be working with such an innovative company," said Will Wynne, CEO & Co-founder of Arena Flowers.
"Over the past three years we have worked closely with and developed a solid foundation with Arena Flowers, and we are very excited about today's announcement. What started as a relationship to deliver flowers in selected European markets has grown into an extended relationship with Arena Flowers so we are now able to offer our customers world-class international floral delivery service in as many as 145 countries around the globe," said Abe Wynperle, President and Chief Operating Officer of Provide Commerce.
About Arena Flowers
Arena Flowers was founded by Will Wynne and Steve France in 2006 when they realised the flower delivery sector in the UK was still stuck in the past. Unlike more old-fashioned competitors, Arena buys all its own flowers from growers and the Dutch flower auctions, then makes up and delivers bouquets direct to recipients. By controlling the supply chain, Arena can guarantee quality, freshness and experience (e.g. customers can upload a photograph to be sent with flowers). The company currently runs 6 own brand websites providing a full end-to-end experience and high quality products in the UK, Holland, Belgium, Germany, Luxembourg, France, Ireland, Austria and Denmark. The international flower delivery service (outside of Arena's own distribution zone) is offered on every site and fulfilled by a highly qualified third-party partner. The Arena family so far includes: ArenaFlowers.com, ArenaFleurs.fr, ArenaBlumen.de, ArenaBloemen.nl, ArenaFleurs.be and ArenaBloemen.be with further websites to come.
About ProFlowers
ProFlowers, a Provide Commerce brand, launched its marketplace in 1998 to sell and deliver fresh cut flowers for everyday and special occasions such as Valentine's Day, Easter, Mother's Day, birthday and anniversary events, through its website, ProFlowers.com. Proflowers' platform combines an online storefront, proprietary supply chain management technology and established supplier relationships to create a market platform that bypasses traditional floral supply chains of wholesalers, distributors and retailers. In 2011, the company began offering world-class international floral delivery service in as many as 145 countries around the globe through ProFlowersInternational.com. The company offers additional gift options through its other sites RedEnvelope.com (Unique Gifts), PersonalCreations.com (Personalized Gifts), CherryMoonFarms.com (gift baskets) and SharisBerries.com (hand dipped berries).
###