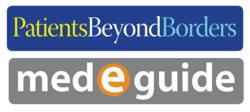 Our alliance is a big step toward connecting leading international hospitals and doctors to healthcare consumers in this currently underserved global marketplace.
Chapel Hill, NC (PRWEB) January 19, 2012
Patients Beyond Borders®, the world's leading source of consumer and industry information about international health travel, and Medeguide™, the world's leading online international doctor directory, have formed a strategic alliance to provide patients with robust search tools for global healthcare options, and to provide hospitals and health travel third parties with a unique offering of branding and marketing tools for the international patient.
Patients Beyond Borders and Medeguide will exchange their information and services, allowing patients everywhere to search hundreds of leading international hospitals and thousands of the world's best doctors throughout Asia, Latin America, Europe, and the US by specialty, procedure, region, and cost. Healthcare providers and networks can take advantage of a wide offering of marketing and branding tools tailored to maximize international visibility through online, mobile and light device apps, video, social communications, and traditional publishing channels.
"Merging our respective product lines will create a comprehensive program for those ready to take their international marketing campaign to the next level, and will create a win-win for healthcare consumers seeking reliable healthcare information," says Ruben Toral, CEO and founder of Medeguide.
"Access to trusted, vetted information is key to millions of patients worldwide who are seeking quality and cost options, whether across town or across oceans," says Josef Woodman, CEO of Patients Beyond Borders. "Our alliance is a big step toward connecting leading international hospitals and doctors to healthcare consumers in this currently underserved global marketplace."
About Medeguide
Medeguide, based in Bangkok, Thailand, is an online doctor directory that lists high-quality doctors from leading hospitals in top medical travel destinations. Popular with expatriates and medical tourists, Medeguide allows users to find doctors by country, hospital, specialty, procedure, or condition. Users can view and compare doctors' information without the hassle of going through multiple hospital websites. Medeguide's powerful, easy-to-use online platform enables users to get recommendations about doctors from other patients, request appointments, and read articles about top doctors, treatment options, and destinations.
Ruben Toral, founder and CEO of Medeguide, is a recognized expert in healthcare marketing, medical tourism, and healthcare globalization. Toral, former group marketing director for Bumrungrad International Hospital and past president of the International Medical Travel Association, has more than 17 years' experience working with doctors and physician networks around the world.
For more information or media queries, please contact:
Leanne Gryga
Medeguide Corporate Offices – Thailand
165 Sukhumvit 49, Bangkok, THAILAND 10110
Tel: +66 2 762.7851
Email: leanne.gryga(at)medeguide(dot)com
Web: http://www.medeguide.com
About Patients Beyond Borders
Patients Beyond Borders, widely recognized as a neutral overseer for international healthcare travel, provides independent information to healthcare consumers and industry leaders, through books, ebooks, consumer websites, mobile devices, social media, and more. Its flagship international title, Patients Beyond Borders, soon to be released in its Third Edition, is the world's leading consumer reference guide for medical tourism.
Josef Woodman, CEO and author of Patients Beyond Borders, has spent more than five years touring 150 medical facilities in 30 countries, researching medical tourism and global healthcare. Woodman's pioneering background in health, publishing, and web technology has allowed him to compile a wealth of information about global health travel, telemedicine, and consumer-directed healthcare demand. Woodman is an outspoken advocate of affordable, high-quality medical care for healthcare consumers worldwide.
For more information or media queries, please contact:
Judy Orchard, communications manager
Tel: +1 919 924.0636
Email: jorchard(at)patientsbeyondborders(dot)com
Web: http://www.patientsbeyondborders.com
###