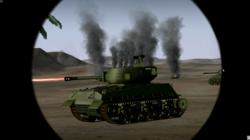 "M4 Tank Brigade is my new version of my old game M1 Tank Platoon from MicroProse Software," says Wild Bill Stealey, Co-Founder MicroProse Software and CEO iEntertainment Network.
Cary, NC (PRWEB) January 19, 2012
iEntertainment Network Inc., (IENT.pk) the developer of the WarBirds 2012 Aerial Combat Simulation Series announces the commencement of free Online Beta play of its new online simulation game, M4 Tank Brigade Online with account sign-up and Beta Software PC Download now available at http://www.M4TankBrigade.com. Mac Beta Software available will be available on the webite shortly.
M4 Tank Brigade is a free online World War II tank game featuring simultaneous player control of up to four combat vehicles using the Combat Tactical Map, the ability to capture fields with infantry, very large, rolling terrain maps, over thirty different and historically accurate World War II armored vehicles from the M4 Sherman to the mighty Panzerkampfwagen Tiger Ausf. E., player controlled AirStrikes and Field Artillery, and player accomplishments measured by obtaining military rank and medals.
M4 Tank Brigade Online screenshots, movies, and beta software can be downloaded from http://www.M4TankBrigade.com.
About iEntertainment Network, Inc.
iEntertainment Network, Inc. trades under this symbol, (IENT.pk). IENT has been a leader in Online Gaming including WarBirds 2012, in continuous service since 1995. IENT's websites include http://www.IENT.com and http://www.Totalsims.com,
For Information Contact:
Lt. Colonel JW "Wild Bill" Stealey, USAF Retired
CEO iEntertainment Network
JWStealey(at)IENT(dot)com
USA 1-919-238-4090
# # #