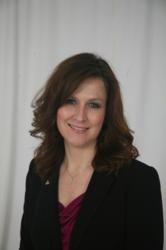 In her new role, Shoudel will oversee program support of $616.9 million in assets for the entire Air Force.
Alexandria, VA (PRWEB) January 24, 2012
Robbins-Gioia, LLC, the leading provider of performance management services, announced today that Jessica Shoudel will manage all Air Force business as executive director, Air Force services.
In her new role, Shoudel will oversee program support of $616.9 million in assets for the entire Air Force. "My goal is to lead my integrated team in leveraging the best practices of each project along with R-G's corporate performance optimization (CPO) offering," she said. "This comprehensive solution set will be carried forward to our clients to optimize performance in the life cycle management center, air logistics sustainment center, and operating complexes." Previously, Shoudel served as executive director of R-G's Air Force south business unit based in Warner Robins, Ga. There, she was responsible for client engagement within the Air Force Air Logistics Centers and Air Force Space Command. Certified as a Project Management Professional (PMP®) and in Lean, Six Sigma, Professional Facilitation, and Air Force Smart Operations for the 21st Century (AFSO21), Shoudel has been with R-G for 14 years in positions of increasing responsibility.
"Jessica has a keen understanding of and proven record in overcoming the management challenges facing our Air Force clients today," said Mike Sledge, chief executive officer, Robbins-Gioia. "Time and again, the leadership skills she brings to organizations add significant value by helping them optimize their operational performance. I am confident that she and her team will build a strong foundation for CPO for R-G's clients."
About Robbins-Gioia, LLC
R-G combines people, processes, and technology that enable organizations to define, measure, and improve desired outcomes. For three decades R-G has brought innovative process and technology-based solutions to high-risk, complex initiatives across many industries. Corporate Performance Optimization (CPO) is our integrated, comprehensive service set.
R-G is an independently managed and wholly-owned subsidiary of Informa Plc, the leading international provider of specialist information and performance improvement services for governments and the academic, scientific, professional, and commercial business communities. For more information, please call R G at 800-663-7138 or visit the web site at http://www.robbinsgioia.com.
###