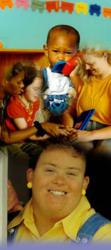 "Being part of the mission at Hopewell fits in perfectly with our vision of what our company ought to be," says Cindy.
Anderson, Indiana (PRWEB) January 19, 2012
Prior to going on sale by mail order and at a growing number of retail outlets around the world, Scout & Zoe's chews are packaged with tender loving care by a group of very special workers at the Hopewell Center in Anderson, Indiana. The Hopewell Center, founded in the early 1950s, is a place where individuals with disabilities can receive education and vocational training.
For Cindy Dunston Quirk, owner and developer of Scout & Zoe's and a resident of Anderson, the decision to use Hopewell was a no-brainer.
"Being part of the mission at Hopewell fits in perfectly with our vision of what our company ought to be," says Cindy. "But the bottom line is they do a great job, they're incredibly responsive to our needs, and we just love having a relationship with them."
Reina Shelton, work center manager for the Hopewell Center, is grateful to Scout & Zoe's for giving her workers-in-training a chance to show what they can do.
"It's absolutely wonderful that Cindy has developed this great product, and that she's using the Hopewell Center for her packaging," says Reina. "We are grateful to all the companies that we are able to do work for, because it provides a means for us to help achieve our goals of helping our people understand what it means to be employed and earn wages."
Hopewell Center provides services and vocational training for about 150 individuals. They are given jobs and provided wages based on the amount of work they are able to complete. Reina says this helps them understand the value of developing skills.
"We specialize in handwork," Reina explains. "We might have one individual who can do 10 pieces a day and one that can do a thousand a day. We work with the companies to make sure all their specs are followed, and many of them, like Cindy, will come in and work closely with us to ensure that everything is just right."
Reina says Hopewell has proven to be a very cost-effective alternative for many companies, because the center is able to quote jobs by the piece and eliminate overhead costs. "We have had nothing but wonderful feedback," she says. "But while it brings in a little revenue what is really valuable to us is the real-world experience they gain in an environment that is supportive and encouraging."
Cindy has no doubt that the relationship with Hopewell Center is paying dividends for Scout & Zoe's. "We put a lot of love into our products, and it's good to know that they're being handled throughout the process by such a group of special individuals," she says. "With love both inside and out, how can we go wrong?"
About Scout & Zoe's: Scout & Zoe's Natural Antler Dog Chews are 100 percent natural elk antlers, gathered only after they've been shed naturally as part of the elk's life cycle.
Antler chews are the right choice for the 15 to 20 percent of dogs who suffer from allergies to beef, chicken or have other digestive issues. They're a safer choice for any dog because antler chews won't splinter like bones. Owners like them because they don't wind up in a gooey mess like rawhide and best of all they take away the need for pets to chew on furniture, shoes and other things around the house.
Scout & Zoe's are superior to other chews in helping dogs maintain clean, healthy teeth and contain trace minerals such as calcium and phosphorous which add to the pet's overall health.
Typically lasting four to six weeks, Scout & Zoe's chews are available in a variety of sizes to suit every breed. No animals are harmed and no violence is imposed on any elk during the gathering of the antlers.
To order Scout & Zoe's chews for your pet, go to http://www.scoutandzoes.com or call (317) 457-7222 to find a retail outlet near you.
###