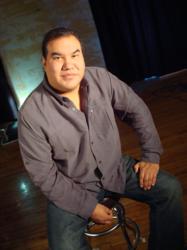 "I am thrilled to hear of this inspired appointment," said Robert Redford. "Chris Eyre is a successful and authentic voice in cinema and perfect for this position. His vision and imprimatur on this program will be profoundly valuable..."
Santa Fe, N.M. (PRWEB) January 20, 2012
Award-winning filmmaker Chris Eyre has been appointed chair of Santa Fe University of Art and Design's Moving Image Arts Department(film/video), effective Feb. 1. Eyre directed the highly acclaimed Smoke Signals, which won a coveted Sundance Audience Award and the Sundance Filmmakers Trophy. Eyre and his films have amassed numerous other awards, including a Peabody and an Emmy. His latest film, Hideaway, starring Josh Lucas and James Cromwell, is due for release in May 2012.
After graduating from New York University's film school, Eyre was invited to participate as a fellow in the Sundance Institute's Directors Lab under the mentorship of Robert Redford. His relationship with Redford was instrumental in helping Eyre produce his early films: Smoke Signals (1998), which was the first feature-length film directed by a Native American to receive national theatrical release by Miramax Films; Skinwalkers (2002); and A Thief of Time (2003). Eyre's 2004 film Edge of America was selected to show on Opening Night at the 2004 Sundance Film Festival, and it garnered Eyre the highly prestigious DGA Award for Outstanding Directorial Achievement from the Directors Guild of America. He later directed A Thousand Roads (2005) for the Smithsonian's National Museum of the American Indian, followed by Imprint (2007), for which he served as producer.
"I am thrilled to hear of this inspired appointment," said Robert Redford. "Chris Eyre is a successful, and authentic voice in cinema and perfect for this position. His vision and imprimatur on this program will be profoundly valuable in ways that Chris, alone, is uniquely positioned to fill," continued Redford. "His influence on a new generation of storytellers will be significant."
Eyre's work for television includes three episodes of the PBS miniseries We Shall Remain (2009)—"After the Mayflower," "Tecumseh's Vision" and "Trail of Tears." He also directed episodes of the critically acclaimed NBC show Friday Night Lights (2009 and 2011).
Eyre has received a Rockefeller Foundation Intercultural Film Fellowship, an NHK/Sundance Cinema 100 Award, the Martin Scorsese Post-Production Award, a Humanitas Prize, the Warner Brothers Post-Production Award, a United States Artists fellowship, an Independent Spirit Award, multiple First Americans in the Arts awards and multiple Best Film awards at the American Indian Film Festival.
"We are thrilled to have one of the most charismatic and successful storytellers of our time directing our film program," said Larry Hinz, president of Santa Fe University. "Chris will be a powerful inspiration for our students."
Eyre spoke passionately about his decision to join the faculty. "I am thrilled that I can remain active in the film industry while mentoring and inspiring a new generation of filmmakers," he said. "My goal as department chair is to transform the Moving Image Arts Department into a world-class film school where students understand the power of telling a story in film and making the world a better place through it."
The school's location was also a key element in Eyre's decision. "Santa Fe is a flagship destination for artists," he said, "a place where all forms and expressions of creativity are nurtured by the community as a whole. Santa Fe University is a school with an outstanding faculty and unparalleled resources, from Garson Studios to the sound stages, the Garson Theater and The Screen, which are outstanding on their own."
Eyre holds a BA in Media Arts from the University of Arizona and an MFA in Film and Television from New York University's Graduate Film program. He is a member of the Cheyenne and Arapaho tribes.
About Santa Fe University of Art and Design
Santa Fe University of Art and Design is an accredited institution located in Santa Fe, New Mexico, one of the world's leading centers for art and design. The university offers degrees in arts management, contemporary music, creative writing, digital arts, graphic design, moving image arts (filmmaking and video production), performing arts, photography, and studio art. Faculty members are practicing artists who teach students in small groups, following a unique interdisciplinary curriculum that combines hands-on experience with core theory and prepares graduates to become well-rounded, creative, problem-solving professionals. As a Laureate International Universities Center of Excellence in Education in Art, Architecture and Design, the university boasts an international student body and opportunities to study abroad, encouraging students to develop a global perspective on the arts. Santa Fe University of Art and Design (formerly the College of Santa Fe) is accredited by The Higher Learning Commission and a member of the North Central Association, http://www.ncahlc.org.
###