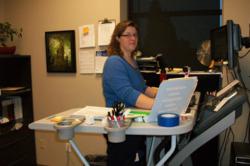 Trekdesk has become a way of life (or rather work) for me.
Vancouver, WA (PRWEB) January 18, 2012
When TrekDesk Treadmill Desks first offered an affordable treadmill desk to America in 2008 it was initially met with a bit of skepticism. Scientific studies since then started exposing the health risks of sitting all day at an office and early adopters of the TrekDesk chimed in with some amazing health restoration stories which have snowballed into a Movement Revolution led by its converts. A number of TrekDesk users have made it their personal mission to spread the word regarding the health benefits of walking while working. Cindy Mayhak of Vancouver, WA was so energized by her results she started a blog to share her experience and health improvement milestones with the TrekDesk Treadmill Desk.
"Trekdesk has become a way of life (or rather work) for me - I have all sorts of thoughts and ideas to share about my experience TrekDesking that I thought I would start a blog to share the information. When I was looking into walking at work ideas, I did a lot of research about ideas and what worked for others and what didn't work for them - I would love for my blog to be a place for people to get a view into someone else's life using a Trekdesk and help them make the decision to walk towards healthier living as well."
Cindy's experience has paralleled that of other TrekDesk users who, although making tremendous gains from a health standpoint, also value the boost in energy and overall well being that walking while working provides, "The benefits of Trekdesk for me have been increased work and personal productivity. While I am walking, I think better and am more productive. And when I am able to walk at work, I am more productive for my personal time, as I am burning calories during work that otherwise I would need to find time to burn after work. My physical being has improved with increased muscle tone and a loss of 30 lbs over the last year. And I plain and simply FEEL better after having TrekDesked at work!
You can follow Cindy's blog and learn more about the benefits of a workout at work (without sweating) at "Don't Ask Me, I Just Walk Here (http://trekdeskwalk.blogspot.com).
Designed to fit any existing treadmill, TrekDesk treadmill desk is an affordable, full sized, height adjustable workstation that allows individuals the opportunity to gain the necessary amount of exercise daily to maintain health, prevent disease, strengthen muscles, boost mood and productivity, without requiring additional time during the day or extra motivation.Workout at work with TrekDesk. No sweat!
TrekDesk is currently available for sale online at TrekDesk.com for $479.00 including free shipping.
Join the TrekDesk "Movement Revolution" to learn more, win a free TrekDesk or ask us any questions anytime at http://www.facebook.com/trekdesk, or follow us on twitter -http://www.twitter.com/trekdesk.
###