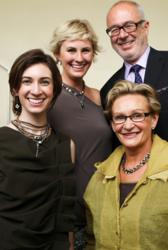 The promise of a smile, the beginning of a story and the end of going unnoticed.
Pittsburgh, Pennsylvania (PRWEB) January 19, 2012
Sabika has been designing unique Austrian crystal jewelry for over ten years. Designers at Sabika Jewelry release two seasonal collections each year. The 2012 Spring/Summer Collection will be revealed Friday, January 27th at 7pm. The jewelry will be showcased in a live fashion show that helps to kick off a weekend of Sabika consultant celebration and training. Karin Mayr founded Sabika to bring style and passion back into the lives of women. Her extensive background as a fashion consultant ensures that each piece of jewelry will charm any outfit; from jeans and khakis, to the elegant black dress. Sabika's home party consultants are trained to help a client find the look that most complements her beauty and lifestyle. Sabika Jewelry is also a member of the Direct Selling Association (DSA.) A trade organization which maintains the highest of ethical business practices among its members. For more information about Sabika, the fashion show, or to get a press pass to the event, contact Lindsay Blazek at: 412-638-5730.