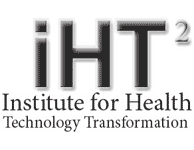 New York, NY (PRWEB) January 18, 2012
The Institute for Health Technology Transformation announced today that they will be hosting the iHT2 Health IT Summit in Atlanta, April 24-25th in Atlanta, GA.
The iHT2 Health IT Summit in Atlanta, will bring together C-level, physician, practice management, and IT decision-makers from North America's leading provider organizations and physician practices. For two full days, executives interact with a national audience of peers, national leaders and solutions providers featuring the latest solutions for practice management, mobility, telemedicine, outsourcing, IT infrastructure, next-generation electronic medical records, disease management, and more.
The Summit will feature keynote presentations from Richard Migliori, MD, Executive Vice President, Health Services, UnitedHealth Group, Chief Healthcare Officer, UnitedHealth Group Alliance, and Russell Branzell, CIO, Poudre Valley Health System.
Featured Speakers include: Charles DeShazer, VP, Medical Informatics, Quality & Transformation, Dean Health System; Robert J. Fortini, PNP, VP, Chief Clinical Officer, Bon Secours Medical Group; J. Gary Seay, SVP & CIO, Community Health Systems; Andy Steele, MD, Director, Medical Informatics, Denver Health; Wallace Ed Brown, SVP & CIO, Gwinnett Medical Center; Naomi Fried, PhD, CIO, Children's Hospital Boston; Dominick Mack, MD, Deputy Director, National Center for Primary Care & GA-HITREC, and many more.
Panel discussions for the Health IT Summit in Atlanta will include: Achieving True HIE: Adoption Barriers & Keys for Success, Transforming the American Health System Through Interactive Informatics, Meaningful Use: Lessons learned from Stage 1 (MU1) Implementation, Privacy & Data Security Challenges with Mobile Technology, Patient Engagement & Accountable Care, Redefining Telehealth for the 21st Century Healthcare System, Adapted Care: How IT is revolutionizing the delivery of health care, and Data Integration & Analytics: Empowering Physician and Patient Collaboration.
Sponsors and Partners Include: ICA, Metro, VitalHealth Software, vRad, Comcast, Altus, Metro Atlanta Chamber, Technology Association of Georgia, Georgia Health Information Management Association, AMDIS, CMIO, DOTmed, eHealth SmartBrief, Executive Insight, Frost & Sullivan, Healthcare IT News, IDC Health Insights, MarketsandMarkets, NASCIO, ReportsandReports, SearchHealthIT.com, and more.
About the Institute for Health Technology Transformation
The Institute for Health Technology Transformation is the leading organization committed to bringing together private and public sector leaders fostering the growth and effective use of technology across the healthcare industry. Through collaborative efforts the Institute provides programs that drive innovation, educate, and provide a critical understanding of how technology applications, solutions and devices can improve the quality, safety and efficiency of healthcare. http://www.ihealthtran.com
For more information about attending or sponsoring the iHT2 Health IT Summit in Atlanta please contact Matthew Raynor, Senior Marketing Manager, Institute for Health Technology Transformation 561-748-6281 or matt(at)ihealthtran(dot)com
###