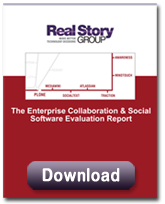 Each enterprise circumstance is unique, but I'd encourage practicality over elegance.
Boston / London (PRWEB) January 19, 2012
The Real Story Group released Version 4.0 of The Enterprise Collaboration and Social Software Report this week. Heavyweight collaboration and social computing platforms from major vendors frequently disappoint business users seeking more polished, out-of-the-box Enterprise 2.0 applications, according to the latest reviews from The Real Story Group, an independent analyst firm that evaluates enterprise and web technologies.
Enterprises attempting to improve internal collaboration and social networking typically seek some combination of the following ten applications:

Knowledgebase Management
External Collaboration
Project Collaboration
Socializing Legacy Processes
Communities
Innovation Support
Expertise Location
Social Q & A
Enterprise Networking
Enterprise Conversation
"The sheer diversity of these use cases sometimes drives enterprises to invest in a major platform like Microsoft SharePoint, IBM Connections, or Oracle WebCenter," notes Real Story Group founder, Tony Byrne. "Yet those very platforms provide few of these ten services as polished, out-of-the-box applications -- an unpleasant surprise for business units expecting more immediate results and less application development."
RSG found that many smaller Enterprise 2.0 vendors have carved a niche by providing specific, ready-to-go applications designed for rapid business value. Examples include Spigit (Social Q&A); Yammer, blueKiwi (Enterprise Networking); Telligent (Enterprise Conversation); Socialtext, MindTouch, Atlassian (Knowledgebase Management); and NewsGator (Communities for SharePoint), among several others.
Version 4.0 of RSG's Enterprise Collaboration and Social Software Report evaluates and reviews nineteen Enterprise 2.0 vendors.
"To be sure, a mixed vendor strategy presents near-term challenges for enterprise systems' architectures, as well as long-term challenges for business users, who may later confront splintered profiles and disconnected activity streams," adds Real Story Group analyst, Kashyap Kompella.
"Each enterprise circumstance is unique, but I'd encourage practicality over elegance," concludes Byrne. "Given all the hype and misinformation around Enterprise 2.0 technologies, enterprises should pursue what works and delivers near-term value."
RSG's Enterprise Collaboration and Social Software Report is available for one-time purchase or as an annual subscription at http://www.RealStoryGroup.com/Purchase/
About The Real Story Group
The Real Story Group just celebrated its tenth birthday and opened a new office in London. Real Story Group provides research and advisory services to support end users in content technology selection and implementation. Through highly detailed technical evaluations, Advisory Papers, and other premium services, The Real Story Group helps sort out the complex technology landscape, so that you can minimize time and effort identifying technologies suited to your particular requirements. To retain its independence as an impartial analyst firm, The Real Story Group works solely for solutions buyers and never for vendors.
###