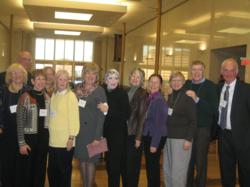 The simple values and connections so fundamental to Quaker life at Westtown had a profound impact on me and are with me still. You have to have something steady at the core to maintain any balance in this world.
West Chester, PA (PRWEB) January 24, 2012
Westtown School graduate Holland Taylor, star of "Ann," a play about former Texas governor Ann Richards which she also wrote, ended a run at the Kennedy Center's Eisenhower Theater on January 15. The one-woman show previously played to packed houses in Texas – Austin, San Antonio and Galveston – and Chicago, and it heads to Broadway later this spring.
The arc of Holland Taylor's acting career has been extensively covered; less so her formative years at Westtown, a Quaker pre-K – 12 college prep school in West Chester, PA. But throughout her life, her Westtown education was far more than a cameo and instead played a starring role in everything that came after high school. "The simple values and connections so fundamental to Quaker life had a profound impact on me and are with me still. Yet I'm a pretty successful actress living in a world very opposite to those qualities. You do have to have something steady at the core, to maintain any balance in this world, so maybe I did retain something."
Holland Taylor began her life-long love affair with theater on the stage at Westtown. "I started as an actress there, doing Puck in 'A Midsummer's Night Dream' in the Greenwood," Westtown's outdoor theater. "I have memories of Westtown I treasure to this day. It was a time of protected learning and mindful nurturing, a wonderful environment."
After earning a degree from Bennington College, Taylor worked steadily as an actor. Equally adept in comedy and drama, she is best-known on screen for portraying a series of steely women. She appeared in movies such as "The Truman Show" and "Legally Blonde," and on television in "Bosom Buddies," "The Practice" (for which she won an Emmy) and "Two and a Half Men." But with "Ann," Taylor returned to her first love, the stage.
Ann Richards, a Texas politician and governor from 1991-95, first came to national prominence with her keynote speech at the 1988 Democratic Convention, when she said of the first President Bush, "Poor George, he can't help it. He was born with a silver foot in his mouth."
Her irreverent wit was just one of the things that drew Holland Taylor to Richards, whom she'd long admired from afar. Although they met only once, in 2004, Richards' directness, honesty and humanity were compelling to Taylor. She began to see Richards as one of the most significant figures in late-20th century politics, and after Richards died in 2006, Taylor was moved to tell her story more widely. In doing so, she tackled the project with the same qualities still emphasized at Westtown today: a keen mind, an intelligent heart and the conscience to act.
For her 50th Westtown reunion in 2010 Holland Taylor wrote, "I have usually been a gun for hire, but the past three years I have been researching and writing a play about Ann Richards, who was the former governor of Texas. I have done this with the help of her family and former staff, and the script has gotten a fantastically positive response."
Unlike other one-person biographical plays such as Hal Holbrook's portrayal of Mark Twain, which relied almost entirely on Twain's writings, Taylor is true to Richards' character, but most of the words in the play are her own. Taylor took an artistic risk rendering a character like Ann Richards, who possessed a vivid – and recent – public persona. And before being taken on by producer Bob Boyett for the Chicago, Kennedy Center and upcoming Broadway productions, the play was also a personal risk since Taylor was originally the sole financial investor. Today, those risks are paying off.
In a November interview in "Newsweek," Taylor referred again to the creative autonomy that motivates her today. "'I've always been a hired gun, and not always so fulfilled by my work. Now I've had the chance to be a leader, to do something that's beyond just myself, something meaningful. Who would have imagined?'"
Westtown School, for one.
# # #