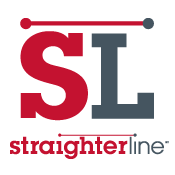 "Combined with StraighterLine's courses, these products and services will offer students the opportunity to demonstrate their proficiency in key academic areas not easily measured by traditional coursework," says Burck Smith, StraighterLine's CEO.
Baltimore, MD (PRWEB) January 19, 2012
StraighterLine (StraighterLine.com), one of the nation's leading providers of online college courses, announced today that starting in the Fall of 2012, they will offer "MyLine," a place where students may purchase, and gain access to, general education coursework and validated tests from leading educational organizations.
The agreement calls for StraighterLine to offer a variety of core skills and information literacy tests from Educational Testing Service (ETS) and the Council for Aid to Education (CAE).
"Combined with StraighterLine's courses, these products and services will offer students the opportunity to demonstrate their proficiency in key academic areas not easily measured by traditional coursework," says Burck Smith, StraighterLine's founder and CEO. "Student grades and test scores will be accessible through each student's individual MyLine profile, which students may share with employers and colleges seeking qualified employees and students."
Starting in the Fall of 2012, students will be able to purchase an individualized version of ETS's iSkills™ assessment, the ETS® Proficiency Profile and CAE's Collegiate Learning Assessment (CLA). The iSkills assessment measures a student's critical thinking and problem-solving skills in a digital environment. The ETS Proficiency Profile assesses critical thinking, reading, writing, and mathematics skills in a single test. Through the use of authentic, performance-based qualitative and quantitative measures, the CLA assesses a student's ability to think critically and write well, including their capacity to problem solve, reason analytically, and write in a persuasive manner that exhibits proper and accepted mechanics.
"This agreement is a key part of ETS's commitment to giving students ownership of their learning and credentials," says David Payne, Vice President and Chief Operating Officer for ETS's Higher Education Division. "We look forward to providing StraighterLine with our innovative assessment expertise in their efforts to help students gain access to higher education and career opportunities in a cost-effective manner."
"We're pleased to partner with organizations like StaighterLine that—like CAE—are dedicated to providing opportunities for students to more effectively and authentically illustrate their capacity to succeed in college and beyond," says Roger Benjamin, President and CEO of CAE, parent company of the CLA.
About StraighterLine
StraighterLine has been recognized as a revolutionizing force in education by major news organizations and the U.S. Chamber of Commerce for offering students online courses that earn real college credit for just $99 a month. Fast Company named StraighterLine one of the "10 Most Innovative Companies in Education."
In order to facilitate the award of credit, StraighterLine has forged partnerships with leading accredited online colleges and universities. A student ultimately earns a degree from those institutions but realizes tremendous savings and convenience by starting with StraighterLine.
StraighterLine's courses are evaluated and recommended by the American Council on Education's College Credit Recommendation Service (ACE CREDIT). In addition to the institutions with which StraighterLine has a direct relationship, students have indicated that at least 250 other colleges have accepted StraighterLine coursework for transfer credit. Currently, StraighterLine offers 36 entry-level college courses online in the Sciences, Humanities, English, Math and Business.
About ETS
At ETS, we advance quality and equity in education for people worldwide by creating assessments based on rigorous research. ETS serves individuals, educational institutions and government agencies by providing customized solutions for teacher certification, English language learning, and elementary, secondary and post-secondary education, as well as conducting education research, analysis and policy studies. Founded as a nonprofit in 1947, ETS develops, administers and scores more than 50 million tests annually — including the TOEFL® and TOEIC® tests, the GRE® tests and The Praxis Series™ assessments — in more than 180 countries, at over 9,000 locations worldwide. ets.org
About CAE
CAE is a non-profit organization founded in 1952 to advance corporate support of education and conduct policy research on higher education (cae.org). Currently, CAE is best known for its work focusing on measuring and improving the quality of secondary and postsecondary education. CAE has two nationwide assessment programs: the Collegiate Learning Assessment and the College and Work Readiness Assessment.
For information, visit StraighterLine.com or call 1-202-507-7020 or 1-877-str8erline (1-877-787-8375).
###