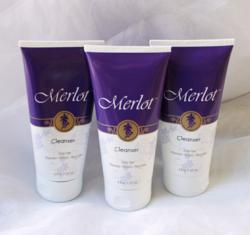 This is the perfect product for women with dry, sensitive, or combination skin.
El Paso, TX (PRWEB) January 19, 2012
Merlot Skin Care, the best-selling natural grape seed-based skin care brand, today announces the re-release of its classic Grape Seed Facial Cleanser. One of the biggest skin care challenges women face is finding a daily cleanser that won't cause irritation of excessive dryness. Merlot's grape seed Cleanser provides the best solution for women with even the most sensitive skin. Beginning in February 2012, Merlot grape seed Cleanser will once again be available at Walgreens stores throughout the US.
Finally, a gentle cleanser that won't overly dry skin. Merlot grape seed facial Cleanser lets women put their best face forward. Its soap-free formula ensures that skin won't be irritated or left excessively dry. Plus, it features grape seed extract, a natural acne fighter.
"This is the perfect product for women with dry, sensitive, or combination skin, as well as those prone to light breakouts," explains Merlot Skin Care CEO Wayne Beckley. "What really makes Merlot's facial Cleanser stand out from other skin care products is the fact that it's soap-free."
An effective cleanser is the keystone of any skin care regimen. The Merlot Cleanser is a gentle and calming way to purify skin. The formula features soothing fruit extracts, including papaya, green apple, and cucumber.
Merlot's natural grape seed facial Cleanser:

Soap-free: won't overly dry skin
Gentle and mild – even for sensitive skin
Can be used to remove makeup
Contains natural grape seed antioxidants that help protect against the free radicals caused by UV rays, smoke, stress, and pollution
Can be used as part of an anti-aging system – skin is prepped/ready to absorb anti-aging moisturizer
Merlot Skin Care has been the go-to brand for skin care innovations since the release of their first product, Merlot Natural Grape Seed Moisturizer, a lightweight anti-aging facial moisturizer, in 2001. "Merlot is a brand that knows the power of natural grape seed antioxidants can be used to achieve beautiful skin, " said Beckley. "An effective cleanser helps prep skin to more fully absorb anti-aging moisturizer."
Merlot is a family-run brand committed to innovative skin care products
Merlot has carved out a niche with customers who want to maximize their beauty budgets and who value the latest skin care innovations. For over 10 years the Texas-based brand has maintained a commitment to cruelty-free products made in the USA. Merlot was named a "Breakout Brand" in 2010 by Honest Beauty, and has been featured by the Chicago Sun-Times, CNBC, and Today with Kathie Lee & Hoda.
About Merlot Skin Care
For more than 10 years Merlot Skin Care has delivered skin care innovations to help women look and feel their best. Their good-for-you philosophy maintains that customers can look like a million bucks without spending that much. Created and developed by Wayne Beckley, the Merlot Skin Care line utilizes the power of natural grape seed antioxidants to fight free radicals – the particles generated by smog, pollution, and harmful UV rays that routinely damage our skin. All products are made in the USA. No animal testing.
Merlot Skin Care is based in El Paso, TX.
Visit us online: http://www.merlotskincare.com
By phone: 1-800-738-0256
Media contact:
Nicole Beckley
nicole(dot)beckley(at)gmail(dot)com
915-433-2327
# # #