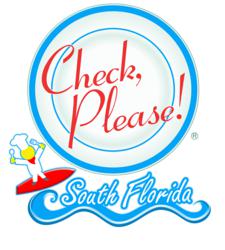 Miami, FL (PRWEB) January 20, 2012
Tune in for all-new restaurant reviews…and a fresh new look on Check, Please! South Florida, beginning January 23rd on WPBT2. This season, WPBT2's popular restaurant review show will sport an updated graphic open, revamped logo, and even new theme music!
Host Michelle Bernstein returns to the Emmy-nominated series, along with fifteen opinionated guest reviewers from all across South Florida. Their dining picks run the gamut, from a colorful Colombian spot in South Miami to the chic and trendy Bistro Chez Jean-Pierre in Palm Beach. Guest reviewers include a South Beach model, Hollywood golf caddy, and Palm Beach financial advisor. One episode features local female impersonator, Miss Finesse, as one of the guest reviewers.
The fun begins Monday, January 23, 2012 at 7:30 p.m. Episodes repeat on Wednesdays at 7:30 p.m. and Saturdays at 5:30 p.m.
Season 7 is made possible by the generous support of Badia Spices, Whole Foods Market, Johnson & Wales University, and George & Helen Weaver.
SEASON 7 EPISODE DESCRIPTIONS:
Show #701- Premiere 1/23
Featuring La Brochette Bistro in Cooper City, Lifefood Gourmet in Miami, and Macita's Colombian Restaurant in Miami.
Show #702- Premiere 1/30
Featuring 32 East in Delray Beach, Snapper's Seafood & Wine Bar in Boynton Beach, and Taqueria Doña Raquel in Pompano Beach.
Show #703- Premiere 2/6
Featuring Hakkasan in Miami Beach, Ristorante Sapori in Boca Raton, and Candela Restaurant in Wilton Manors.
Show #704 – Premiere 2/13
Featuring Darbster in West Palm Beach, Bistro Chez Jean-Pierre in Palm Beach, and Geronimo's Bar & Grill in Davie.
Show #705 – Premiere 2/20
Featuring Hy Vong in Miami, Café Seville in Ft. Lauderdale, and Lorna's Caribbean & American Restaurant in Miami Gardens.
About WPBT2
South Florida's premier public broadcaster, WPBT2, is a community-licensed, not-for-profit media enterprise serving communities from the Treasure Coast to the Florida Keys. WPBT2 provides high quality content from PBS, independent acquisitions and its own original productions. WPBT2's digital media platform, offers: 2HD, a 24-hour high definition channel; Digital 2.2, a mix of Science & Nature Channel, The Florida Channel and Create; Digital 2.3, V-me, a 24-hour national Spanish-language network; and http://www.wpbt2.org, the WPBT2 website including, Impromp2 (a community blog), the WPBT2 Video Player and uVu, a video sharing website.
###