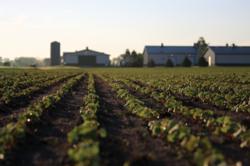 Palmyra, WI (PRWEB) January 19, 2012
The Nutrition Business Journal (NBJ) recently recognized Standard Process Inc. with an NBJ Business Achievement Award for Organic Excellence. Selected for its commitment to organic farming, Standard Process was one of two companies, and the only whole food supplement company in recent history, to receive the award.
"It is a true honor for us to be recognized by the Nutrition Business Journal for our commitment to organic farming," said Charles C. DuBois, president of Standard Process. "We believe in being a positive example by demonstrating to other businesses and farmers that farming organically provides valuable health benefits, and can be successful on both large- and small-scale farms."
In growing its crops, Standard Process adheres to strict National Organic Program regulations from the United States Department of Agriculture. In 2011, Standard Process grew more than 6.5 million pounds of vegetables on 420 acres of certified organic farmland located in Palmyra, Wis. In addition, the company welcomed 75 different groups, from farmers to customers and from elementary students to college students, to the Standard Process Farm throughout the year to educate them about organic farming.
In 2010, Standard Process earned an Investment in the Future award from NBJ for its strategic investments in manufacturing efficiencies and outreach efforts to better educate healthcare practitioners and its employees.
NBJ, a monthly executive journal and publisher of in-depth research that reports on strategic issues facing the nutrition industry, presents the NBJ Business Achievement Awards annually to leaders in the nutrition, natural products and alternative health care industries. This year, NBJ had 215 nominations for its award program. All 2011 award recipients will be honored at the NBJ Summit, July 24-27, in Dana Point, Calif.
About Standard Process Inc.
For more than 80 years, Standard Process, headquartered in Palmyra, Wis., has provided health care professionals with high-quality, nutritional whole food supplements. Standard Process offers more than 300 products through three product lines: Standard Process whole food supplements, Standard Process Veterinary Formulas, and MediHerb herbal supplements. The products are available only through health care professionals.
Standard Process is involved in every step of production. The company grows crops on company-owned, organically certified farmland, utilizes state-of-the-art manufacturing processes, and employs the highest quality control standards. Standard Process strictly adheres to the Food and Drug Administration's good manufacturing practice requirements. Through these measures, Standard Process can ensure that its products are of the utmost quality. Standard Process was recently named a Top 100 Workplace in Southeastern Wisconsin.
For additional information about Standard Process, visit standardprocess.com.
###