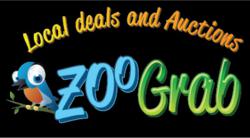 Roseville, California (PRWEB) January 18, 2012
ZooGrab, the up-and-coming Daily Deal and Reverse Auction website, is excited to announce that the launch of its Beta Site in Sacramento on October 2011 was a success. The website ZooGrab.com is now LIVE!
ZooGrab would like to say thanks to all of our supporters who visited and tested the Beta launch.
By using the power of group purchasing, ZooGrab offer deals each day on Sacramento's best goods, services and culture, including meals at fine restaurants, tickets to top-notch cultural events, spa packages and more. ZooGrab will offer an eclectic mix of deals on goods and services with discounts often exceeding 50 percent and in some instances saving consumers hundreds of dollars.
Despite the current economic climate, ZooGrab projects it will grow quickly by offering a win-win experience for consumers and businesses alike. Sacramento consumers will receive huge deals on the best the city has to offer, and participating businesses will experience an explosion of sales thanks to the promotional support as well as guaranteed business and exposure that ZooGrab provides. Businesses benefit from ZooGrab's positive and entertaining write-ups, social networking and outreach activities, resulting in increased sales and new customers.
Participating ZooGrab customers receive deals only if a certain number of people join the daily discount "campaign." Because of ZooGrab's increasing popularity, an overwhelming majority of campaigns are successful, with participating businesses far surpassing their ZooGrab targets.
ZooGrab lets users indulge their desires to get out and try new places in Sacramento, and helps them save big bucks in the process. The incredible deals and witty copy on the ZooGrab site keeps users coming back for more on a daily basis.
In these tough economic times, consumers and businesses need all the breaks they can get. ZooGrab chose Sacramento as its first city because of its well-educated, web-savvy population and diverse business community. As proof of the enthusiasm ZooGrab has generated so far, thousands of Sacramento consumers have already signed up for the ZooGrab daily newsletter, available at https://www.ZooGrab.com
About ZooGrab
ZooGrab, has launched in Sacramento. ZooGrab will be a popular deal-a-day and Reverse Auction shopping website that uses the power of group purchasing and team buying to get unbeatable deals on the best local goods, services and culture. ZooGrab plans to launch operations in other U.S. cities in coming months. For more information, visit https://www.ZooGrab.com
###