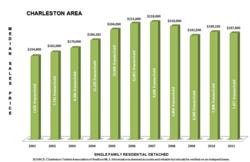 It is my belief that we will look back and say that 2010 and 2011 were the bottom for the Charleston real estate market.
Charleston, S.C. (PRWEB) January 19, 2012
With dual roles as a Buyer Representative for Charleston Preferred Properties and an active residential real estate appraiser, Bart Jackson spends the vast majority of his days examining the Charleston, SC real estate market. According to this seasoned professional, there are many indicators in place that suggest the Charleston market is heading towards recovery.
"I really think 2012 is shaping up to be a year of true market stabilization for the Charleston area," says Jackson. "It is my belief that we will look back and say that 2010 and 2011 were the bottom for the Charleston real estate market."
For the past three years, inventory in Charleston has steadily declined and activity has shown steady increases. In 2011, the Charleston region saw the highest number of single-family home sales since 2007.
"Prices have declined to the point where buyers appear to be getting comfortable with real estate again," Jackson notes. "There is still concern about what the future holds for prices and values, but the outright fear of real estate seems to have subsided."
Among the indicators in 2011 that Jackson points to to support his claim are: A continued, but stabilizing, decrease in median sales price; a continued increase in sales activity; a continued decrease in inventory; an increase in the number of businesses and people moving into the Charleston region; a notable reemergence of new construction in several areas; a decline in foreclosures; an increase in rents; continued low mortgage rates; and an increase in consumer confidence. According to Jackson, these trends all suggest that the market is headed towards recovery.
"There does remain a looming concern about a shadow inventory of foreclosure properties that will be released into the market over the first half of 2012, but it is uncertain how many of those properties are allocated specifically to the Charleston area," Jackson says. "It is also uncertain exactly how banks will liquidate this inventory."
There has been a national discussion regarding the possibility of large banks packaging foreclosure properties and selling them in bulk to investors in lieu of liquidating them individually via local real estate agencies. Bank of America is even reported to be considering a program to rent homes back to the borrower after foreclosure to try and create a scenario that helps both parties.
Jackson has observed an increasing number of buyers who are actively seeking aggressively priced properties. And with list prices in some Charleston submarkets showing a distinct increase throughout 2011, an increasing number of buyers have begun to act.
"In one example from 2011, I helped some clients place an offer on a bank-owned property in Mount Pleasant, and their offer ended up being among five received. Another client was so concerned about competing buyers on a specific property, that as soon as it was foreclosed on I began tracking the property within the bank so that my client could be the first to make an offer," Jackson says.
Indeed, Jackson believes many of the low offers accepted by banks for foreclosures in certain Charleston subdivisions in recent years would not be accepted today.
"If anything, I think any shadow inventory of foreclosure properties in 2012 should be looked at as an opportunity for buyers who want to take advantage of any remaining attractive pricing in this unique down market. I am currently advising clients to have their financing in place and be ready to act quickly when the right priced distressed property comes to market," says Jackson.
Jackson also points to national research conducted by Eli Beracha of East Carolina University and Dr. Ken H. Johnson of Florida International University to determine which makes more sense financially: To rent or own a home. Their findings indicate that drivers appear to be in place that favor homeownership over renting in the near term future. According to both professors, the time to buy is now.
"To me, this research also indicates that in 2012 we will likely see more investors add income producing residential properties to their portfolios as rents continue to rise and prices maintain at an attractive level," says Jackson. "There are still many properties in Charleston that – with today's sales prices and low mortgage rates – will produce immediate cash flow with 5%-10% return on investment. That was unheard of during the height of the market."
While there are still some really hard hit areas around the country that will require additional time to rebound and recover, Jackson points out that all real estate is local.
"Just because it's raining in Detroit doesn't mean it can't be sunny and warm in Charleston at the same time," he says. "On a local level, the Charleston area appears to be regaining a measure of normalcy."
About Charleston Preferred Properties
Charleston Preferred Properties represents buyers who are searching for residential property to purchase in the Charleston, SC region. From orienting clients to the area's neighborhoods, communities and listings, to negotiating the best price, terms and conditions, CPP fully and exclusively represents the interests of the buyer. The company's website provides in-depth information about Charleston real estate opportunities, including a comprehensive Charleston MLS search function, Charleston Area Guide, market reports and more.
###