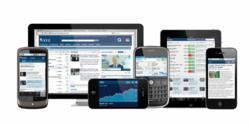 Bobby brings extensive real-world experience delivering solutions that address the complex research and workflow requirements of institutional clients on both the buy and sell sides
Zug, Switzerland/New York, NY (PRWEB) January 19, 2012
CarryQuote AG, an award-winning pioneer in real-time mobile financial information solutions, today announced that Bobby Peacock has joined the global management team as VP of Product and Business Operations where he will drive business operations for EMEA as well as contribute to the company's overall strategic product direction.
Mr. Peacock will be based in the company's London office.
Bobby Peacock joins CarryQuote with over 15 years of experience in Product and Commercial Management in the financial services industry. Prior to joining CarryQuote, Mr. Peacock was Product Development and Operations Manager for the Real Estate Markets team at Thomson Reuters, where he was responsible for the complete revamp of the dedicated news and research solution as well as contributing to the overall product and business strategy planning process. Previously, he was Global Head of Analyst Products (Investment Management) at Thomson Reuters, managing teams that covered a wide range of products including Reuters Knowledge, StreetEvents, Thomson ONE Analytics and Thomson ONE Investment Analyst. Before joining Thomson Reuters, Mr. Peacock held various senior product management and commercial roles at Multex, BARRA and Edinburgh Financial Publishing.
"Bobby brings extensive real-world experience delivering solutions that address the complex research and workflow requirements of institutional clients on both the buy and sell sides," said Christian Erlandson, CEO of CarryQuote. "Moreover, his client-focused approach to product development will ensure that we continue to deliver advanced mobile solutions that not only meet client needs, but anticipate where the market is going."
About CarryQuote
CarryQuote® is an award-winning company that's been providing high-end, private label mobile applications to the financial services and market data industry since 2007. The company pioneered the concept of on-demand real-time global market quotes and was the first to offer custom branded mobile apps for secure research and multimedia content delivery. CarryQuote mobile solutions can integrate proprietary content with CNBC news, low-cost real-time market data, analytics and charting. CarryQuote's unique SaaS-based technology is compatible with all major mobile platforms, ensuring access to critical financial information whenever and wherever it's needed. For more information, please visit http://www.carryquote.com.
###