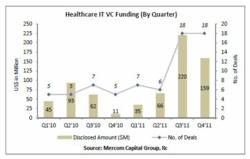 2011 was a great year for Healthcare IT companies in terms of financial activity. Almost half a billion dollars came into the sector through venture capital investment compared to $211 million in 2010," said Raj Prabhu, managing partner of Mercom Capital
A (PRWEB) January 23, 2012
Mercom Capital Group, llc, a global communications and consulting firm, today released its annual and fourth quarter merger and acquisition (M&A) and funding report for the healthcare technology sector for 2011.
"2011 was a great year for Healthcare IT companies in terms of financial activity. Almost half a billion dollars came into the sector through venture capital investment compared to $211 million in 2010," said Raj Prabhu, managing partner of Mercom Capital Group. "Several factors, including strategic acquisitions, consolidation and increasing market share, played a role in the increased M&A activity in the sector."
Health information management companies received most of the disclosed VC funding in 2011, totaling $336M (million) in 30 deals. Personal health record companies raised $83.3M in 12 deals. The top VC funding deal was $75M, raised by online doctor appointment startup ZocDoc. Other top VC funding deals were $27M raised by Awarepoint, a provider of real-time location systems, $27M raised by ABILITY network, a web-based healthcare network, followed by $23M raised by Humedica, a clinical informatics company and $23M raised Practice Fusion, a web-based EMR company.
Top VC investors in 2011 were HLM Venture Partners with four deals, followed by Cardinal Partners, Chrysalis Ventures, Founders Fund, Innovation Endeavors and Klein Perkins Caulfield & Byers, with three deals each. There were a total of 104 VC investors in 2011, compared to 62 in 2010.
Merger and acquisition (M&A) activity was robust in 2011 with 104 recorded transactions totaling $6B (billion), compared to $4B in 85 transactions in 2010.
Health information management (HIM) companies accounted for most of the M&A transactions with 61 transactions, followed by 19 transactions for revenue cycle management (RCM) companies and 16 transactions for service providers. In terms of dollars, RCM companies accounted for $3.9B, followed by HIM companies with $1.9B.
The top M&A transaction in 2011 was the acquisition of Emdeon, a provider of revenue and payment cycle management and clinical information exchange solutions, by Blackstone Capital Partners for $3B.
For a copy of Mercom's 2011 HIT Funding and M&A Report, visit: http://www.mercomcapital.com/healthcareITreports.php
About Mercom Capital Group
Mercom Capital Group, llc is a global communications and consulting firm focused on healthcare technology and cleantech. Mercom's communications division helps healthcare IT companies build powerful relationships with media, analysts, government decision-makers, local communities and strategic partners. Mercom's consulting division advises companies on new market entry, custom market intelligence and overall strategic decision-making. Mercom delivers highly respected industry market intelligence reports covering healthcare IT. Our reports provide timely industry happenings and ahead-of-the-curve analysis specifically for C-level decision making. For more information about Mercom Capital Group, visit: http://www.mercomcapital.com. To get a copy of Mercom's popular market intelligence reports, visit: http://mercomcapital.com/market_intelligence.php.
###